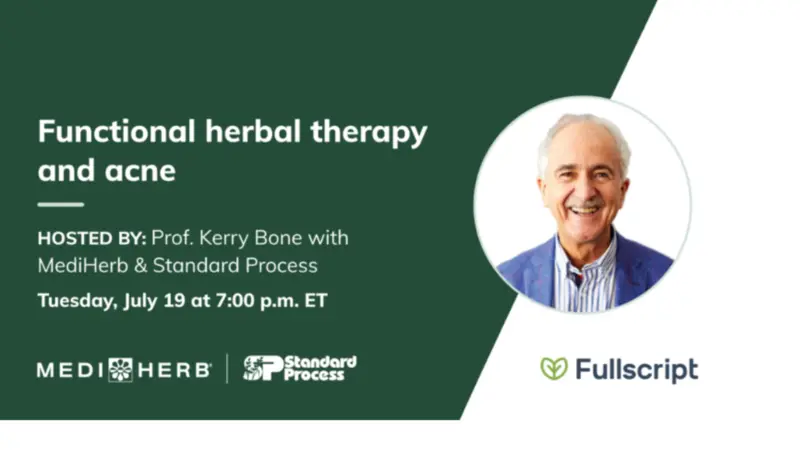 Functional Herbal Therapy and Acne

THIS WEBINAR WILL BE AVAILABLE ON-DEMAND FROM FULLSCRIPT SHORTLY AFTER THE DATE OF THE LIVE WEBINAR USING THE SAME REGISTRATION LINK.
Skin is a sophisticated, self-renewing organ that is our primary barrier against external threats. One of the most common skin issues is acne: a complex issue that can be challenging to address.
In this webinar with MediHerb and Standard Process, Prof. Kerry Bone will investigate the clinical features and drivers of acne, including available drug therapies and diet. There will also be a review of the clinical evidence for botanicals in supporting patients with acne. Through the lens of Functional Herbal Therapy, Kerry will provide the key targets and introduce simple strategies you can immediately implement in your practice.
In this webinar, you'll:
Learn the key clinical features, pathophysiology, drivers and drug therapy of acne.
Understand what role diet plays in acne.
Review the clinical evidence for herbs in acne, including topical applications.
Understand the traditional herbs for acne.
Understand the key therapeutic targets and herbal protocols informed by functional herbal therapy (FHT) for acne.
Can't make the scheduled time? Don't worry! We'll be sending a recording to all registrants after the live event, and you can find all Fullscript webinars at www.fullscript.com/webinars.
---
About Professor Kerry Bone, BSc (Hons), Dip Phyto, FNIMH, FNHAA, MCPP, FANTA:
Kerry is recognized internationally as a pre-eminent herbal practitioner, scientist and academic with a reputation cemented by his significant contribution to excellence in education, research and advocacy. Kerry's passionate commitment to product development, research, writing, education and clinical practice positions him as a pioneer in the international herbal industry. He is the founder of MediHerb®, author of seven books, contributor to over 100 articles on herbal therapy to peer-reviewed journals around the world and has remained dedicated to his practice for over 35 years
Disclaimer
The information in this article is designed for educational purposes only and is not intended to be a substitute for informed medical advice or care. This information should not be used to diagnose or treat any health problems or illnesses without consulting a doctor. Consult with a health care practitioner before relying on any information in this article or on this website.