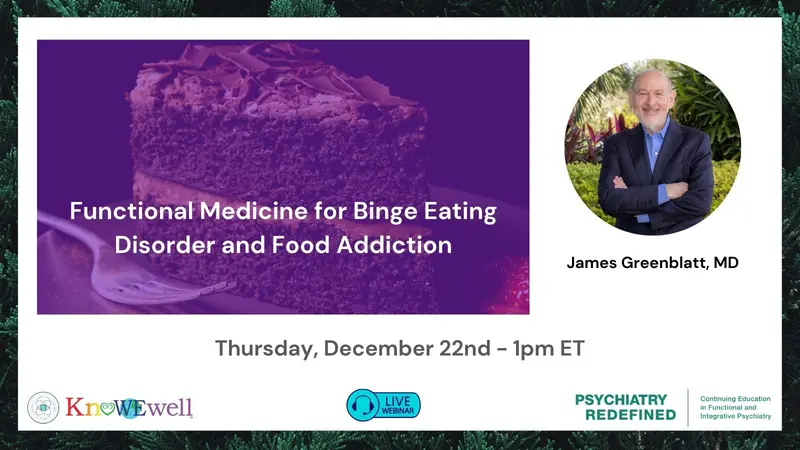 Functional Medicine for Binge Eating Disorder and Food Addiction

To order and watch the lecture, click on REGISTER HERE.
Every year, millions of Americans toil to lose weight, and spend on aggregate 55 billion dollars on products and services. Despite their efforts, two-thirds of U.S. adults remain obese or overweight. The research shows diets do not work, and failed attempts to lose weight only make a bad situation worse by encouraging disordered eating behaviors.
For many people struggling with binge eating disorder (BED) and food addiction, the physical realities of "food dependency" are accompanied by profound psychological and emotional distress, locking sufferers into endless cycles of bingeing, guilt, and shame. This presentation explores the "biology behind the binge" and presents evidence-based strategies for identifying biological factors that may be contributing to BED and food addiction. Correcting underlying nutritional imbalances, optimizing neurotransmitter activity, and enhancing digestion are keystones of the Functional Medicine model for BED. 
In this program you will learn:
The role nutrition plays in regulating appetite and digestion

How to navigate simple laboratory tests to reveal underlying nutritional imbalances, and illuminate personalized treatment regimens to rebalance appetite

What key nutrients support healthy appetite and digestion
Psychiatry Redefined 
Psychiatry Redefined is an educational platform offering mental health professionals training in functional and integrative psychiatry for mental illness. We provide comprehensive, evidence-based and clinician-led courses, webinars, and resources to help professionals treat the root cause of psychiatric disorders, and utilize personalized medicine protocols in their practice.