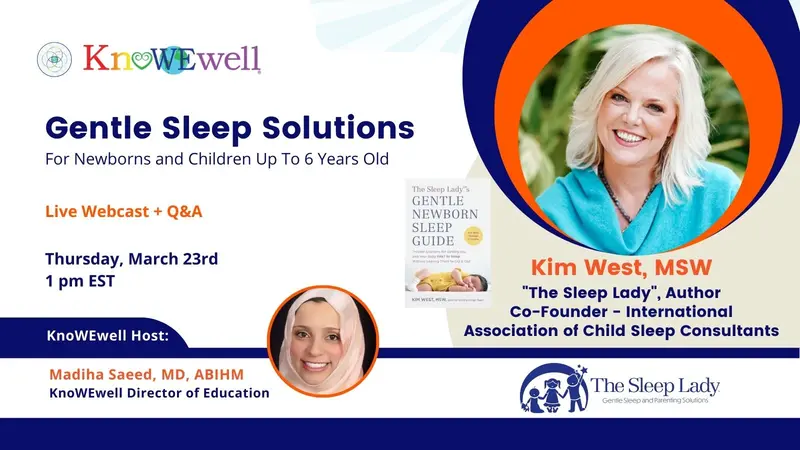 Gentle Sleep Solutions

Exhausted from your child not sleeping? You are not alone.
Kim West, known as The Sleep Lady® by her clients, has personally helped over 20,000 tired parents all over the world get a good night's sleep. Through excellent parental sleep advice and coaching she also helps children "sleep well and wake up happy".
Kim is the author of 4 books and has appeared on the Dr. Phil, Today Show, NBC Nightly News, Good Morning America, TLC's Bringing Home Baby and CNN. She has been written about in a number of publications including The Wall Street Journal, Associated Press, Baby Talk, Parenting, The Baltimore Sun, USA Today, The Telegraph, The Irish Independent and the Washington Post.
Kim West joins Dr. Madiha Saeed to discuss children's sleep from birth to age 6 years old and to share tips from her newest book "The Sleep Lady's Gentle Newborn Sleep Guide", which was just released this March 21st.
In this program you will learn:
Why Your Baby Stays Awake All Night but Sleeps in The Day
How to get sleep without letting your baby "cry it out"
About sleep regressions and how to get your child back on track
How to decide what time your child goes to bed
Causes for and how to fix early rising for young children
KnoWEwell.com
KnoWEwell operates the private and secure Regenerative Whole Health Hub – the all-in-one, global, trusted online health and well-being solution – bridging the knowledge, access, and insurance gaps. Centralizing knowledge, education, and evidence-based resources. Connecting the ecosystem to collaboratively help individuals prevent harm, address the root causes of disease, and achieve WELLthier Living™!
Did you know you can curate your own learning library?
Among our plethora of membership benefits, you can create your own library! With a KnoWEwell Pathfinder membership, you get access to KnoWEwell's Education Center with 50+ (and growing) educational programs from today's top thought leaders and experts. Learn how to prevent and address the root causes of chronic disease. Keep track of the programs you have already viewed and watch them anytime you or your family need help. Join today, apply code BEWELL20 and receive 20% off your Pathfinder membership (or any other membership plan). That's just $8 a month to get started on your journey to achieve WELLthier Living – Happy. Healthy. Abundant. Purpose-Filled!