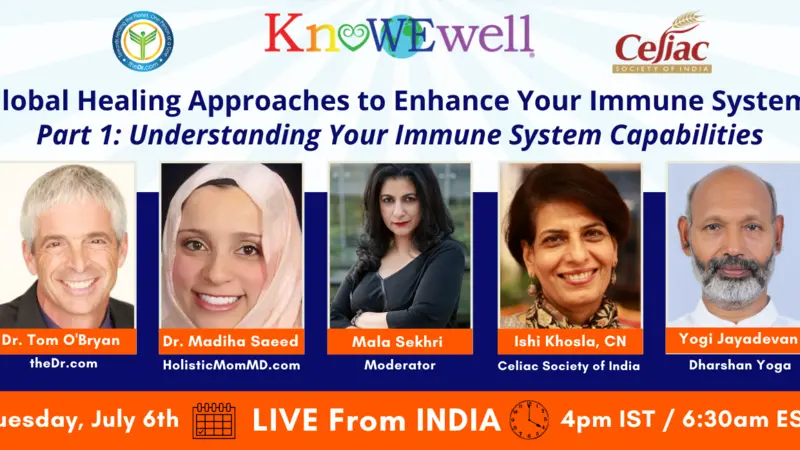 Global Healing Approaches for Enhancing Your Immune System Capabilities Part 1: Understanding Your Immune System Capabilities

​Why This Series?
For the past 18 months, we have lived in the worst kind of threat to our health: a deadly, invisible enemy out there attacking our immune system. Never in our lifetime, have we been more aware of the dangers of a compromised immune system.
Series Description
In this important 6-part series, we look at the most critical aspects of the immune system, and how we can tap into ancient, integrative, mainstream, and cutting-edge practices to make it efficient and enhance its ability to handle day-to-day stresses and disease. In this series, we explore a Regenerative Whole HealthTM ("RWH") approach from top experts around the globe who will help you transform your body's ability to handle disease and give you realistic approaches to protecting yourself and your family. 
LIVE from India and other parts of the world, the series will feature experts such as Dr. Tom O'Bryan, KnoWEwell Chief Health Officer; Ishi Khosla, Clinical Nutritionist and President of the Celiac Society of India; Yogi Jayadevan, Founder of Dharshan Yoga, Dr. Madiha Saeed, KnoWEwell Director of Education; and a plethora of world authorities in whole health, naturopathy, homeopathy, fitness, mental health, and happiness. 
Dates : Tuesdays beginning July 6th. 
July 6th, 13th, 20th, 27th, August 3rd, and 10th 
Time: 6:30am EST / 4:30am CST/ 4:00pm IST (India) 
In Part 1, you will learn:
What is our Immune System? What is its job in the body?

What is our immune system made of and how do we realize its full potential?

How does the immune system respond to external threats on a day-to-day basis?

What are the factors that build up good immunity?

What I can control to start the journey towards building a more robust immune system

3 top recipes for a healthy immune system from our experts

To view the details of all 6-parts and purchase the series:

How to Obtain this 6-Part Series for FREE?
If you are a KnoWEwell member, your membership includes this 6-part series, as well as access to over 40 KnoWEwell members-only educational on-demand webinars and ongoing monthly educational webinars lead by today's RWH experts ($260 value).  In addition, members with upgraded membership plans receive discounts on most other educational programs and courses.
In order to make the cost of educational courses more equitable and accessible to all globally, KnoWEwell members course prices are adjusted based on the World Bank Data that classifies countries by income level.

(You must be logged into KnoWEwell to access this link)
Not a KnoWEwell Member Yet?
Join today at KnoWEwell.com
For KnoWEwell Membership Discount Codes visit one of our
​ KnoWEwell, P.B.C.
KnoWEwell is the global Regenerative Whole Health (RWH) benefits and services company. An award-winning, woman majority-owned, B Certified pending corporation and 1% for the Planet member.
We operate KnoWEwell.com, the one online destination for today's trusted Regenerative Whole Health knowledge, resources, and ecosystem collaborating to inspire and empower individuals to prevent harm, address chronic diseases and achieve WELLthier Living. 
We are on a mission to transform healthcare, as we share knowledge and healing success stories, provide access to screened, verified and background-checked RWH practitioners, as well as expert-led and peer-reviewed content, evidence-based resources, create meaningful connections, and help today's providers, mission-aligned nonprofits, and businesses prosper.