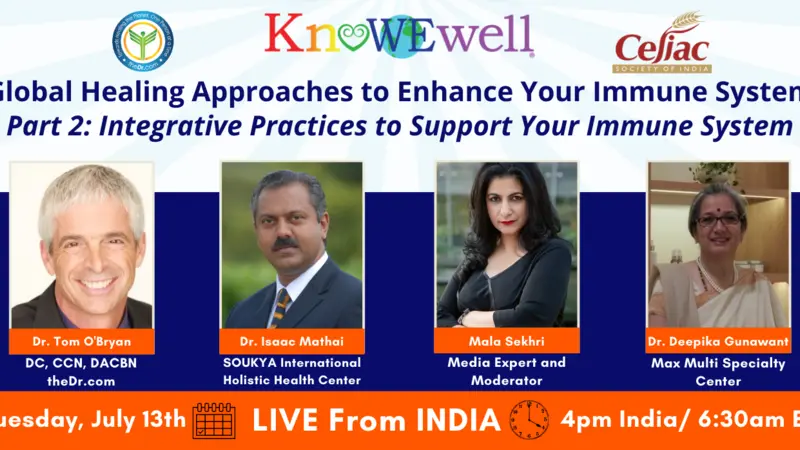 Global Healing Approaches for Enhancing Your Immune System Capabilities Part 2: Integrative Practices to Support Your Immune System

​Why This Series?
For the past 18 months, we have lived in the worst kind of threat to our health: a deadly, invisible enemy out there attacking our immune system. Never in our lifetime, have we been more aware of the dangers of a compromised immune system.
Series Description
In this important 6-part series, we look at the most critical aspects of the immune system, and how we can tap into ancient, integrative, mainstream, and cutting-edge practices to make it efficient and enhance its ability to handle day-to-day stresses and disease. In this series, we explore a Regenerative Whole HealthTM ("RWH") approach from top experts around the globe who will help you transform your body's ability to handle disease and give you realistic approaches to protecting yourself and your family. 
LIVE from India and other parts of the world, the series will feature experts such as Dr. Tom O'Bryan, KnoWEwell Chief Health Officer;  Dr. Isaac Mathai of the SOUKYA International Holistic Health Center; Dr. Deepika Gunawant of the Max Multi Specialty Center; and a plethora of world authorities in whole health, naturopathy, homeopathy, fitness, mental health, and happiness. 
Dates : Tuesdays beginning July 6th. 
July 6th, 13th, 20th, 27th, August 3rd, and 10th 
Time: 4:00pm India  / 4:30am CST/ 6:30am EST
In Part 2, you will learn:
What are the benefits of Functional Medicine, Homeopathy, Ayurveda and Naturopathy

What is the difference between Functional Medicine and Integrative Medicine

How using these four therapies can help build your immune system

How to apply these ancient sciences to modern life

2 top recommendations from each experts on building and sustaining a healthy body
​ KnoWEwell, P.B.C.
KnoWEwell is the global Regenerative Whole Health (RWH) benefits and services company. An award-winning, woman majority-owned, B Certified pending corporation and 1% for the Planet member.
We operate KnoWEwell.com, the one online destination for today's trusted Regenerative Whole Health knowledge, resources, and ecosystem collaborating to inspire and empower individuals to prevent harm, address chronic diseases and achieve WELLthier Living. 
We are on a mission to transform healthcare, as we share knowledge and healing success stories, provide access to screened, verified and background-checked RWH practitioners, as well as expert-led and peer-reviewed content, evidence-based resources, create meaningful connections, and help today's providers, mission-aligned nonprofits, and businesses prosper.
​