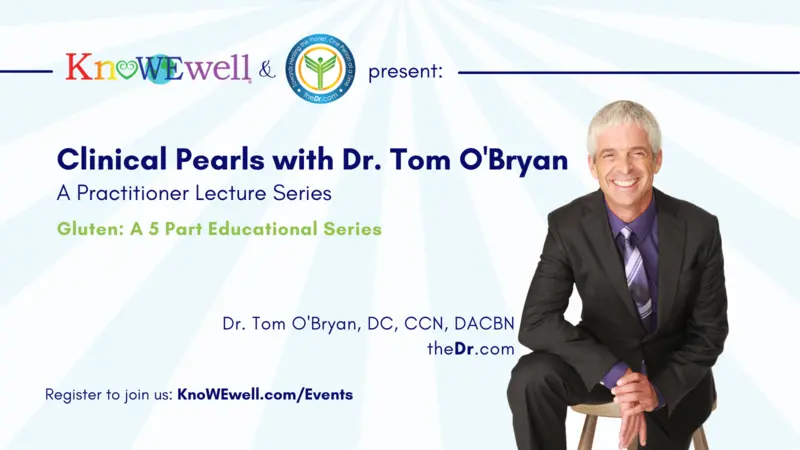 Gluten: A 5 Part Practitioner Educational Series

Clinical Pearls with theDr.com. Practitioners join Dr. Tom O'Bryan, DC, CCN, DACBN for a professional educational lecture series on Gut. 
Part 1:  The Science Behind Gluten, Friend or Foe? (Thursday, February 18th)
Part 2: Arthritic and Neurological Manifestations of a Wheat Related Disorder (Thursday, March 4th)
Part 3: Case Studies: Exposing Gluten as the Culprit (Thursday, March 18th)
Part 4: Test. Don't Guess. Increasing Sensitivity and Specificity Identifying Wheat Related Disorders (Thursday, April 8th)
Part 5: Above the Curve: Successfully Transitioning People into a Non-Inflammatory Lifestyle (Thursday, April 22nd)
Dr. Tom O'Bryan is KnoWEwell's Chief Health Officer and the founder of theDr.com. He is a recognized world expert on gluten and its impact on health, and a internationally recognized and sought-after speaker and workshop leader specializing in the complications of Non-Celiac Gluten Sensitivity, Celiac Disease, and the development of Autoimmune Diseases, as they occur inside and outside of the intestines.
Dr. Tom O'Bryan is "making it easy to do the right thing" and at theDr.com we want to empower you with the cutting-edge information and the most elevated, relevant and best sourced products and program to help you live your BEST life.
KnoWEwell® 
KnoWEwell is the one destination for today's trusted Regenerative Whole Health™ knowledge, resources and community. The global community and marketplace ecosystem collaborating to inspire and empower individuals to achieve WELLthier Living™.  
Join the movement as we share knowledge and healing success stories, provide access to evidence-based resources, create meaningful connections and help today's providers, mission-aligned nonprofits and businesses opportunities prosper. We are transforming the healthcare we know. We are KnoWEwell.   
REGENERATIVE WHOLE HEALTH™ 
We're bridging the knowledge gap, connecting the dots between soil, food, lifestyle choices, planet and people health. 
One trusted space for all of today's global healing, health and well-being approaches, therapies, and providers with respect for the connections between the whole unique person and our planet. 
Everything you, your family and your patients need for collaborative engagement to make optimal informed decisions.