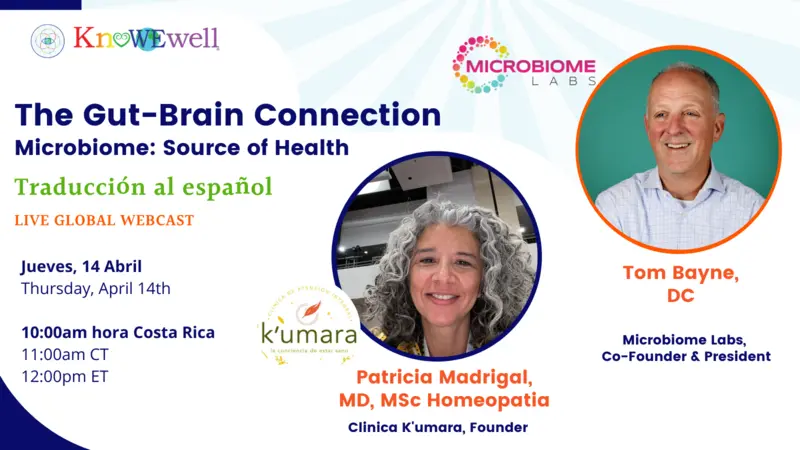 The Gut-Brain Connection

A growing body of evidence suggests that the health of the gut microbiome is closely linked to brain function and mental health. Research in this area shows that altering bacteria in the gut may help to treat mental and neurodevelopmental disorders.  Dr. Tom Bayne, DC, co-founder and President of Microbiome Labs joins Patricia Madrigal, MD, MSc and founder of Clinica K'umara to discuss this important connection and natural ways to support a healthy gut and brain.
In this program you will learn:
About the brain in your gut
Neurological disorders associated with gut imbalance
The biggest cause of gut imbalance
How to support a healthy gut barrier
Patricia Madrigal, MD, MSc Homeopathy, Clinica Kumara, Founder
Dr. Madrigal, Founder, is a natural and homeopathic physician with an integrative approach to patient care. Passionate and dedicated to continuous study, she specializes in getting to the root causes of women's health problems and chronic diseases.
KnoWEwell, P.B.C. 
KnoWEwell is the global Regenerative Whole Health™ (RWH) benefits and services company. An award-winning, woman majority-owned, B Certified pending corporation, and 1% for the Planet member.
We operate KnoWEwell.com, the one online destination for today's trusted RWH knowledge, resources, and ecosystem collaborating to inspire and empower individuals to prevent harm, address chronic disease, and achieve WELLthier LivingTM.
We are on a mission to transform healthcare. We share knowledge and healing success stories, offer access to screened, verified and background-checked RWH practitioners, provide expert-led and peer-reviewed content and evidence-based resources, create meaningful connections, and help today's practitioners, and mission-aligned nonprofits and businesses prosper.