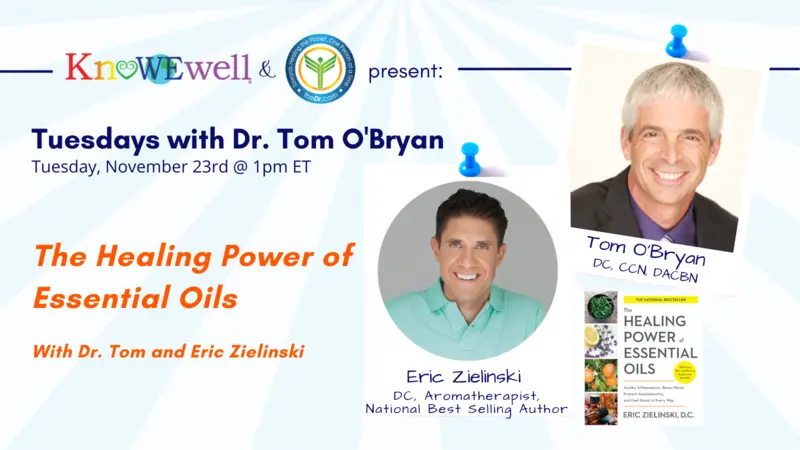 The Healing Power of Essential Oils

Essential oils contain the plant's "essence", or the smell and the taste that are characteristic of the plant and are used to improve physical, emotional, or spiritual well-being. They are used to help reduce stress and pain, ease digestion and much more.
Eric Zielinski, D.C. is a Doctor of Chiropractic who specializes in public health research and aromatherapy. A pioneer in the Biblical health space, Dr. Z is the author of the International Bestselling book The Healing Power of Essential Oils & The Essential Oils Diet, Executive Producer of The Hope for Breast Cancer documentary, and creator of the Essential Oils for Abundant Living Masterclass. With his wife Sabrina, he founded NaturalLivingFamily.com in 2014, which has become the most visited website devoted to Bible health and non-branded essential oil education in the world.
Dr. Zielinski joins KnoWEwell's Chief Health Officer, Dr. Tom O'Bryan, DC, CCN and DACBN and founder of theDr.com to talk about the profound impact essential oils has on our health and well-being.
In this program, you will learn:
Why aromatherapy is an important tool in your health toolkit

Practical ways to integrate essential oils into your life

How essential oils support sleep, alertness, and better health
KnoWEwell, P.B.C.  
KnoWEwell is the global Regenerative Whole Healthä (RWH) benefits and services company. An award-winning, woman majority-owned, B Certified pending corporation, and 1% for the Planet member. 
We operate KnoWEwell.com, the one online destination for today's trusted RWH knowledge, resources, and ecosystem collaborating to inspire and empower individuals to prevent harm, address chronic disease, and achieve WELLthier Livingä.  
We are on a mission to transform healthcare. We share knowledge and healing success stories, offer access to screened, verified and background-checked RWH practitioners, provide expert-led and peer-reviewed content and evidence-based resources, create meaningful connections, and help today's practitioners, and mission-aligned nonprofits and businesses prosper.