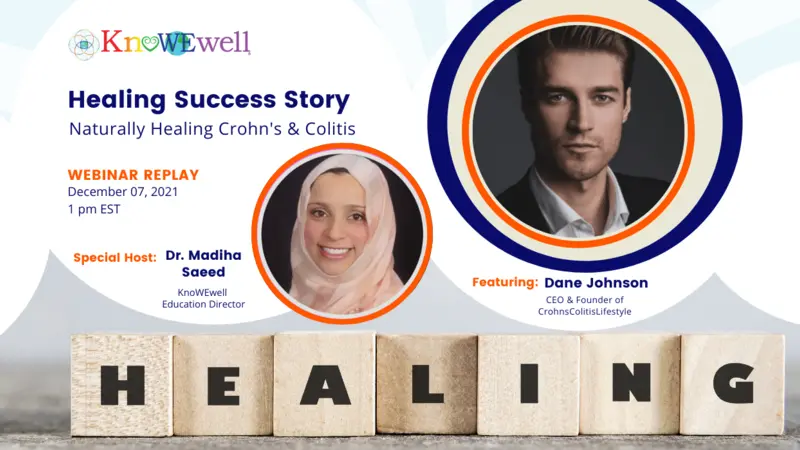 Healing Success Story: Naturally Healing Crohn's & Colitis Replay

Crohn's disease and ulcerative colitis, the two most common Inflammatory Bowel Diseases (IBD), are painful, chronic diseases that attack the digestive system, and can cause abdominal pain, persistent diarrhea, rectal bleeding, fever, and weight loss. Crohn's may attack anywhere along the digestive tract, while ulcerative colitis inflames only the large intestine (colon). In some patients, IBD may also affect the joints, skin, bones, kidneys, liver, and eyes. IBD affects an estimated 3 million Americans. 
Please join us for our Healing Success Story Webinar with Dr. Madiha Saheed, KnoWEwell's Education Director, featuring Dane Johnson, CEO & Founder of Crohn'sColitisLifestyle. Dane will talks about his life-threatening battle with Crohn's/colitis and how he took back his health, reversed his debilitating symptoms through natural medicine.
Dane founded Crohn'sColitisLifestyle to help those suffering from these conditions to return to a happy, healthy, and pain-free life through personalized natural medicine. He has created an empowering community of doctors, nutritionists, healthcare experts, and survivors, who work together to help people reach their health goals through the use of natural medicine. 
KnoWEwell, P.B.C.
KnoWEwell is the global Regenerative Whole Health (RWH) benefits and services company. An award-winning, woman majority-owned, B Certified pending corporation and 1% for the Planet member.
We operate KnoWEwell.com, the one online destination for today's trusted Regenerative Whole Health knowledge, resources, and ecosystem collaborating to inspire and empower individuals to prevent harm, address chronic diseases and achieve WELLthier Living. 
We are on a mission to transform healthcare, as we share knowledge and healing success stories, provide access to screened, verified and background-checked RWH practitioners, as well as expert-led and peer-reviewed content, evidence-based resources, create meaningful connections, and help today's providers, mission-aligned nonprofits, and businesses prosper.