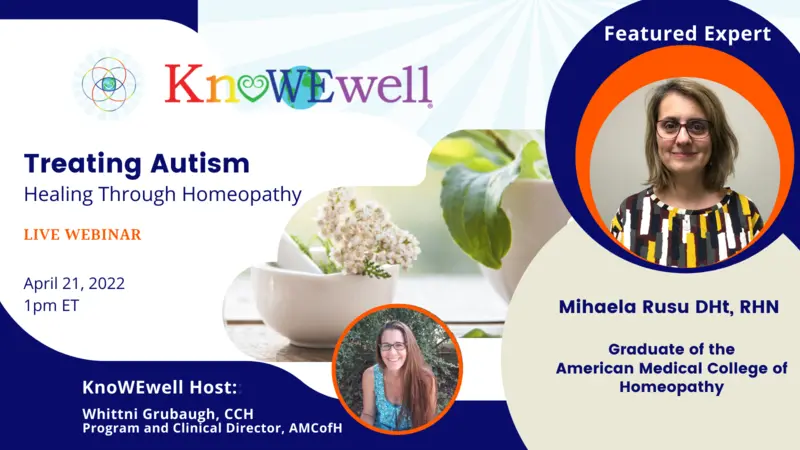 Healing Through Homeopathy: Treating Autism

Whittni Grubaugh, DIHom, CCH and Program Director of the American Medical College of Homeopathy hosts a monthly webinar series, "Healing through Homeopathy." Passionate about homeopathy and education, Whittni has studied with professionals from around the world at the International Academy of Classical Homeopathy campus in Greece. She holds regular clinic and mentorships for student homeopaths, and she hosts this monthly educational program.
Whittni Grubaugh features experts from her industry to explore common health symptoms and how to treat them using various homeopathic healing tools. In this program, Mihaela Rusu, DHt, RHN and mother of a son on the autism spectrum joins Whittni to talk about the role of homeopathy in treating autism.
In this program, you will learn:
What is Autism Spectrum Disorder (ASD) and the degrees of severity

Possible causes of ASD

Early signs and symptoms of ASD

Common "symptoms" of autism that are often treated through homeopathy

The role homeopathy can play in easing the symptoms

How to identify the appropriate homeopathic remedy
KnoWEwell, P.B.C. 
KnoWEwell is the global Regenerative Whole Health™ (RWH) benefits and services company. An award-winning, woman majority-owned, B Certified pending corporation, and 1% for the Planet member.
We operate KnoWEwell.com, the one online destination for today's trusted RWH knowledge, resources, and ecosystem collaborating to inspire and empower individuals to prevent harm, address chronic disease, and achieve WELLthier LivingTM.
We are on a mission to transform healthcare. We share knowledge and healing success stories, offer access to screened, verified and background-checked RWH practitioners, provide expert-led and peer-reviewed content and evidence-based resources, create meaningful connections, and help today's practitioners, and mission-aligned nonprofits and businesses prosper.
American Medical College of Homeopathy
Established in 1999, the AMCofH at the Phoenix Institute of Herbal Medicine & Acupuncture (PIHMA) homeopathic programs have been a leader in Homeopathic Education and Research. Their online and classroom-based programs make homeopathy accessible to all those who long to embrace and practice this effective system of medicine.
Homeopathy is among the more common forms of integrative medicine used today. It is safe, inexpensive, and curative, a gentle method of helping to restore long-lasting health. At PIHMA, we are committed to transforming lives through outstanding homeopathic education, research, and clinical services.