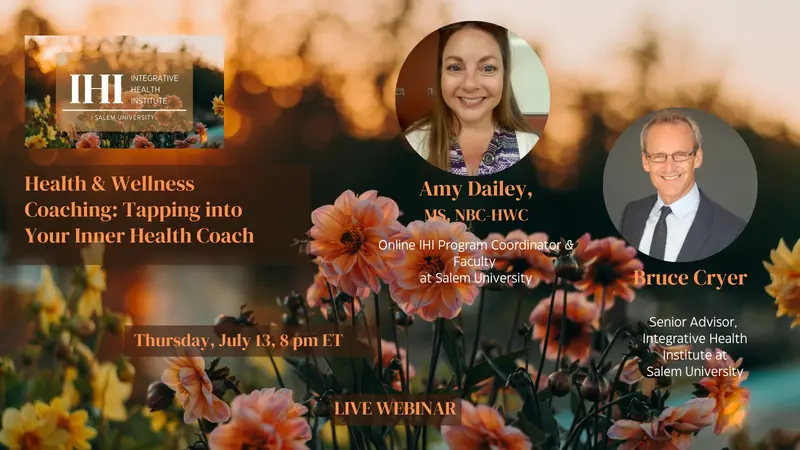 Health & Wellness Coaching: Tapping into Your Inner Health Coach

Join us for an insightful and transformative journey into the world of health and wellness coaching. This is an opportunity to uncover your hidden potential as we delve into the concept of awakening your 'Inner Health Coach'.
We will explore the cornerstones of health and wellness coaching, including setting realistic goals, promoting sustainable lifestyle changes, and encouraging positive behaviors.  Learn how to engage with the coaching process both as a coach and a coachee, empowering not only yourself but also those around you to make healthier choices.
By the end of this webinar, participants will be able to:
Integrate Health & Wellness Coaching principles into their practice to enhance client wellness.
Utilize client-specific goal setting and lifestyle change strategies for improved health outcomes.
Apply techniques to inspire clients towards positive behavior changes and healthier choices.
Engage in the coaching process effectively to foster a supportive and empowering environment.
Apply webinar knowledge to enhance their practice and contribute to their clients' overall health and wellness.
Integrative Health Institute (IHI) at Salem University
The Integrative Health Institute (IHI) was established in January 2022 to transform the education of health professionals, educators, and other inquisitive adult students through an innovative curriculum in the science, tools and skills of health care and education. In addition, our aim is to create a new generation of health and wellness practitioners and educators who are skilled at dealing with the pressures and extreme challenges in healthcare today, embody health and well-being themselves, and can provide integrative evidence-based approaches to their diverse patients, clients, and students.
KnoWEwell.com
KnoWEwell operates the private and secure Regenerative Whole Health® Hub – the all-in-one, global, trusted online health and well-being solution – bridging the knowledge, access, and insurance gaps. Centralizing knowledge, education, and evidence-based resources. Connecting the ecosystem to collaboratively help individuals prevent harm, address the root causes of disease, and achieve WELLthier Living™!
Did you know you can curate your own learning library?
Among our plethora of membership benefits, you can create your own library! With a KnoWEwell Pathfinder membership, you get access to KnoWEwell's Education Center with 50+ (and growing) educational programs from today's top thought leaders and experts. Learn how to prevent and address the root causes of chronic disease. Keep track of the programs you have already viewed and watch them anytime you or your family need help. Join today, apply code BEWELL20 and receive 20% off your Pathfinder membership (or any other membership plan). That's just $8 a month to get started on your journey to achieve WELLthier Living – Happy. Healthy. Abundant. Purpose-Filled!