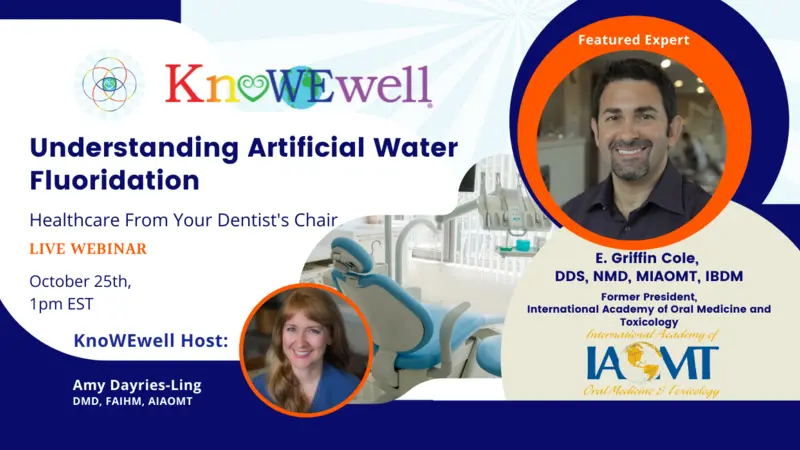 Healthcare From Your Dentist Chair: Understanding Artificial Water Fluoridation

Since 1993, Dr. E. Griffin Cole has been practicing mercury-safe, fluoride-free dentistry. Initially calling it, "mercury free" dentistry, he has been in biological dentistry for almost three decades. As a leader, he has been featured on local, state, and national news stories (including World News Tonight with Diane Sawyer) and has been published for his restorative work in several national journals. He's the past President of the International Academy of Oral Medicine and Toxicology and authored the Academy's position paper on fluoridation and ozone therapy aided root canal therapy.
Dr. Cole acquired board certification in Naturopathic Medicine and Integrative Biological Dental Medicine in 2010 from the School of Integrative Biologic Dental Medicine.
KnoWEwell, P.B.C.
KnoWEwell is the global Regenerative Whole HealthTM (RWH) benefits and services company. An award-winning, woman majority-owned, B Certified pending corporation, and 1% for the Planet member.
We operate KnoWEwell.com, the one online destination for today's trusted Regenerative Whole Health knowledge, resources, and ecosystem collaborating to inspire and empower individuals to prevent harm, address chronic diseases and achieve WELLthier LivingTM. 
We are on a mission to transform healthcare, as we share knowledge and healing success stories, offer access to screened, verified and background-checked RWH practitioners, provide expert-led and peer-reviewed content and evidence-based resources, create meaningful connections, and help today's providers, and mission-aligned nonprofits and businesses prosper.