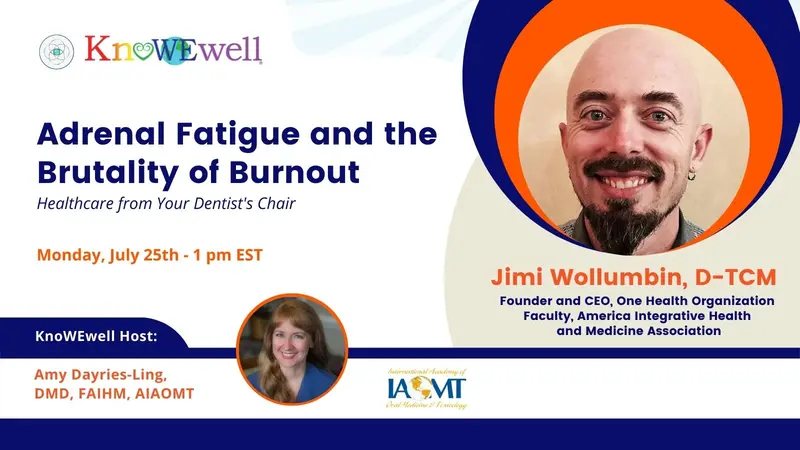 Healthcare from Your Dentist's Chair: Adrenal Fatigue and The Brutality of Burnout

The term "adrenal fatigue" explains a group of symptoms, like fatigue and sleeplessness, that occur when you are under long-term mental, emotional, or physical stress. In response to the ongoing stress, the body's immune system revs up, and the adrenal glands release cortisol and adrenaline in a "fight or flight" response, which increases your blood pressure and heart rate. With prolonged production of cortisol, adrenal fatigue sets in.
Dr. Jimi Wollumbin, D-TCM, joins Dr. Amy Dayries-Ling, DMD, FAIHM, AIAOMT for her monthly webcast series, "Healthcare from Your Dentist's Chair" to talk about adrenal fatigue and the affect it has on your health. As a doctor of Traditional Chinese Medicine (TCM), Dr. Jimi shares both the early warning signs and the traditional techniques of the Taoist and Vedic medical traditions to rejuvenate the vitality of your adrenal reserves. 
Dr. Jimi Wollumbin is the CEO and founder of One Health Organization, a wellness-based charity that has distributed over 10 metric tons of herbs and supplements to 100 locations across 13 countries since 2005. He teaches integrative doctors across America, sits on the faculty of the America Integrative Health and Medicine Association, and is a lifetime member of the Tibetan Medical Institute's 'Friends of Tibetan Medicine'.
In this program, you will learn:
Who is at risk of adrenal fatigue

The main drivers of adrenal fatigue

The effect of adrenal fatigue on sleep and on your health

Ayurvedic and Traditional Chinese Medicine (TCM) approach to treating adrenal fatigue

How to use TCM to support oral and overall health
KnoWEwell.com
KnoWEwell operates the private and secure Regenerative Whole Health Hub – the all-in-one, global, trusted online health and well-being solution – bridging the knowledge, access, and insurance gaps. Centralizing knowledge, education, and evidence-based resources. Connecting the ecosystem to collaboratively help individuals prevent harm, address the root causes of disease, and achieve WELLthier Living™!
Did you know you can curate your own learning library?
Among our plethora of membership benefits, you can create your own library! With a KnoWEwell Pathfinder membership, you get access to KnoWEwell's Education Center with 50+ (and growing) educational programs from today's top thought leaders and experts. Learn how to prevent and address the root causes of chronic disease. Keep track of the programs you have already viewed and watch them anytime you or your family need help. Join today, apply code BEWELL20 and receive 20% off your Pathfinder membership (or any other membership plan). That's just $8 a month to get started on your journey to achieve WELLthier Living – Happy. Healthy. Abundant. Purpose-Filled!