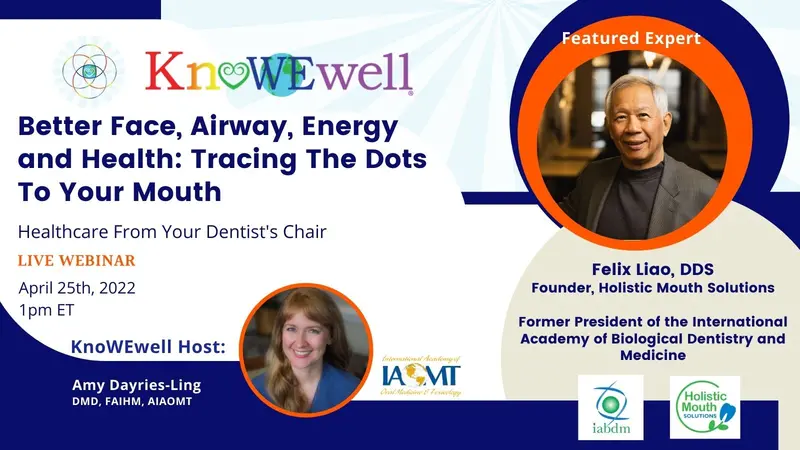 Healthcare from Your Dentist's Chair: Better Face, Airway, Energy and Health: Tracing The Dots To Your Mouth

A "bad back" often means serious pain and physical limitations. A structurally impaired or "bad mouth" can also mean pain, and it can choke your airway. If you are you suffering from any of these problems, Impaired Mouth Syndrome is likely to be a hidden root cause:
Recurring aches and pains, jaw cramps, and fatigue
Teeth grinding, depression, anxiety, brain fog, and waking up tired
Sleep apnea, snoring, double chin, PMS, ED, diabetes, overweight
Multiple dental problems: root canals, extractions, or implants with failures
Join Dr. Amy Dayries-Ling, DMD, FAIHM, AIAOMT and host of Healthcare from Your Dentist's Chair and Dr. Felix Liao, DDS, former President of the International Academy of Biological Dentistry and Medicine (IABDM) and founder of Holistic Mouth Solutions as they discuss how to connect the dots from your symptoms to their root cause(s) and how to bring out a better version of your face...starting with your mouth.
In this program you will learn:
How your health symptoms can be related to your mouth
To identify and understand the root cause of your symptoms
How to relaunch your vitality and bring out a better version of your face and mouth
A pre-publication pdf of Dr. Felix's upcoming book Your Kid's Best Face: How Parents Can Nurture Top Health & Attractive Look will be available for download during the presentation as a gift from Dr. Felix.
KnoWEwell, P.B.C. 
KnoWEwell is the global Regenerative Whole HealthTM (RWH) benefits and services company. An award-winning, woman majority-owned, B Certified pending corporation, and 1% for the Planet member. 
We operate KnoWEwell.com, the one online destination for today's trusted Regenerative Whole Health knowledge, resources, and ecosystem collaborating to inspire and empower individuals to prevent harm, address chronic disease, and achieve WELLthier Living™.  
We are on a mission to transform healthcare, as we share knowledge and healing success stories, offer access to screened, verified and background-checked RWH practitioners, provide expert-led and peer-reviewed content and evidence-based resources, create meaningful connections, and help today's practitioners, and mission-aligned nonprofits and businesses prosper.