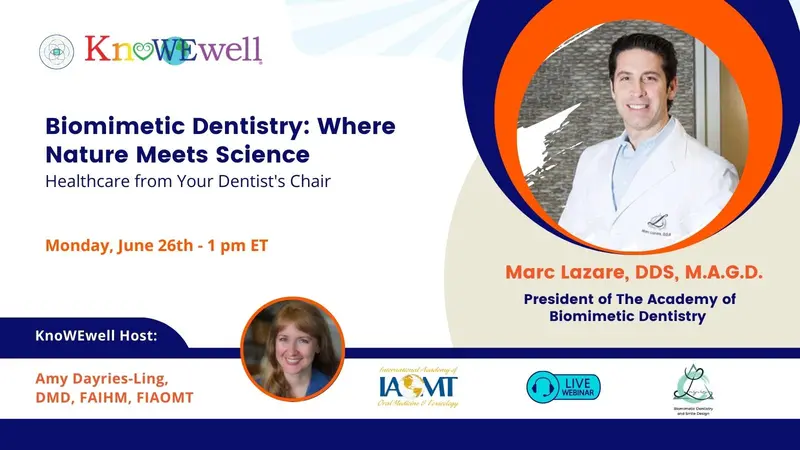 Healthcare from Your Dentist's Chair: Biomimetic Dentistry: Where Nature Meets Science

This engaging presentation introduces the concept of biomimetic dentistry, an innovative approach that draws inspiration from nature to provide minimally invasive dental treatments.
Attendees will discover how biomimetic dentistry leverages nature's blueprint to restore and enhance smiles with precision and artistry while minimizing the need for aggressive procedures. They will learn about the remarkable techniques and materials used in biomimetic dentistry, and how this approach can result in long-lasting, aesthetically pleasing, and conservatively prepared dental restorations.
Learning Objectives:
Understand the principles of biomimetic dentistry: Participants will gain a solid understanding of the core principles and philosophy behind biomimetic dentistry, including how it mimics nature's design and utilizes minimally invasive and biological techniques to restore and enhance smiles. 
Explore the benefits of biomimetic dentistry: Attendees will discover the advantages of choosing biomimetic dentistry over traditional dental procedures. They will learn about the potential benefits such as preservation of healthy tooth structure (avoiding invasive procedures such as root canals and crowns), improved longevity of restorations, reduced risk of complications, and enhanced aesthetics.
Discover the latest advancements and techniques: Participants will be introduced to cutting-edge advancements and techniques in biomimetic dentistry. They will learn about the latest materials, bonding techniques, and technologies that enable dentists to achieve precise and minimally invasive restorations, resulting in a more natural-looking and long-lasting smile.
By the end of the presentation, participants will have a comprehensive understanding of biomimetic dentistry, its benefits, and the latest advancements in this innovative approach to dental care.
International Academy of Oral Medicine and Toxicology (IAOMT) 
The International Academy of Oral Medicine and Toxicology (IAOMT) is a global network of dentists, health professionals, and scientists who research the biocompatibility of dental products, including the risks of mercury fillings, fluoride, root canals, and jawbone osteonecrosis. It is a non-profit organization and has been dedicated to their mission of protecting public health and the environment since they were founded in 1984. 
KnoWEwell.com 
KnoWEwell operates the private and secure Regenerative Whole Health Hub – the all-in-one, global, trusted online health and well-being solution – bridging the knowledge, access, and insurance gaps. Centralizing knowledge, education, and evidence-based resources. Connecting the ecosystem to collaboratively help individuals prevent harm, address the root causes of disease, and achieve WELLthier Living™! 
Did you know you can curate your own learning library? 
Among our plethora of membership benefits, you can create your own library! With a KnoWEwell Pathfinder membership, you get access to KnoWEwell's Education Center with 50+ (and growing) educational programs from today's top thought leaders and experts. Learn how to prevent and address the root causes of chronic disease. Keep track of the programs you have already viewed and watch them anytime you or your family need help. Join today, apply code BEWELL20 and receive 20% off your Pathfinder membership (or any other membership plan). That's just $8 a month to get started on your journey to achieve WELLthier Living – Happy. Healthy. Abundant. Purpose-Filled!