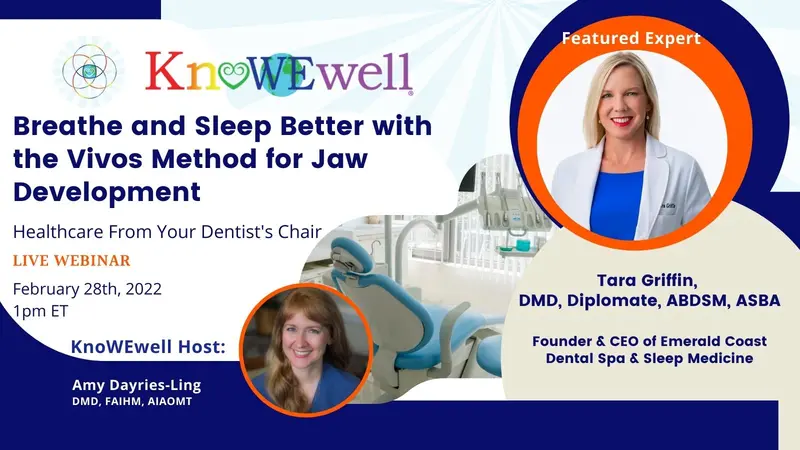 Healthcare From Your Dentist's Chair: Breathe and Sleep Better with the Vivos Method for Jaw Development

Sleep apnea is a chronic illness affecting more than one billion people globally. It increases the risk of comorbidities, including high blood pressure, heart failure, stroke, diabetes, dementia, chronic pain, fibromyalgia and other life-threatening diseases. Unlike current standard-of-care interventions, such as lifetime-use of CPAP machines or surgical procedures, patients treated with the Vivos Method typically complete their therapy in 12 to 24 months, and in many cases, do not require further intervention.
Join Dr. Amy Dayries-Ling, DMD, FAIHM, AIAOMT, and Health and Well-Being advisor to KnoWEwell and Tara Griffin, DMD, Diplomate, ABDSM, ASBA as they discuss the Vivos Method protocol, an innovative, non-surgical approach to addressing the dental tissue anomalies and malformations known to be associated with sleep apnea.
Dr. Griffin is internationally certified to train doctors for the treatment and correction of Obstructive Sleep Apnea/Sleep Breathing Disorder, Enhanced Facial Esthetics, and TMJ Disorders using the DNA, mRNA, and VIVOS Appliances™. She is 1 of 3 doctors in the Southeast with her Double Diplomate from the American Board of Dental Sleep Medicine and the American Sleep and Breathing Academy. Dr. Griffin is on the Clinical Advisory Board of Vivos Therapeutics, Inc. and is helping to rid the world of sleep apnea. Dr. Griffin is the only doctor in the Southeast with a Dental Wellness Center offering Natural Airway Orthodontics with a team of doctors certified with Vivos Therapeutics, ALF Appliances, and Osteopathic Manipulation Treatment. She is also the founder and CEO of Emerald Coast Dental Spa and Sleep Medicine.
In this program, you will learn:
What is sleep apnea and what causes it?

How your teeth and jaw affect your breathing

Treatment options for breathing disorders like sleep apnea

How to find a Vivos provider
KnoWEwell, P.B.C. 
KnoWEwell is the global Regenerative Whole HealthTM (RWH) benefits and services company. An award-winning, woman majority-owned, B Certified pending corporation, and 1% for the Planet member.
We operate KnoWEwell.com, the one online destination for today's trusted RWH knowledge, resources, and ecosystem collaborating to inspire and empower individuals to prevent harm, address chronic disease, and achieve WELLthier LivingTM.
We are on a mission to transform healthcare. We share knowledge and healing success stories, offer access to screened, verified and background-checked RWH practitioners, provide expert-led and peer-reviewed content and evidence-based resources, create meaningful connections, and help today's practitioners, and mission-aligned nonprofits and businesses prosper.