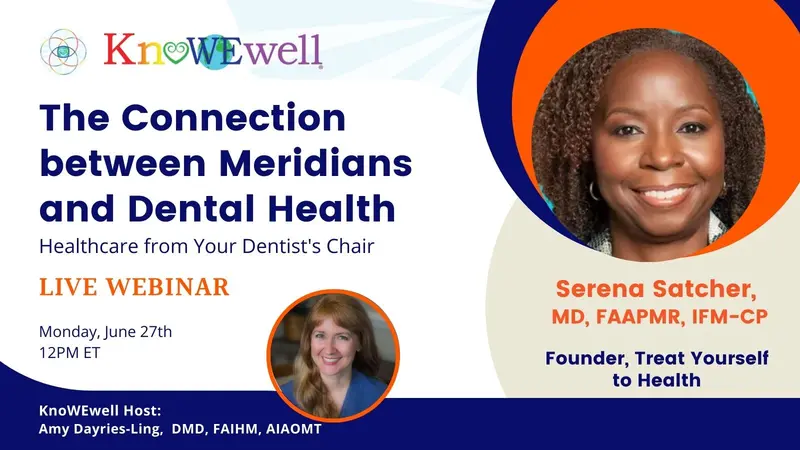 Healthcare from Your Dentist's Chair: The Connection between Meridians and Dental Health

Breast Cancer is connected to a tooth in over 90% of cases.
Ancient peoples in different cultures researched and documented energy channels in the body.  From this TCM (Traditional Chinese Medicine) mapped out Meridians and found meridians connected with our teeth.  These maps give us insight into the location of the problem in the body based on the tooth involved.  In root cause medicine, this can be a tool that can help clinicians to improve care and make it more efficient and effective.
Serena Satcher, MD and Certified Functional Medicine Practitioner joins Dr. Amy Dayries-Ling, DMD, FAIHM, AIAOMT for her monthly webcast series, "Healthcare from Your Dentist's Chair" to discuss the connection between meridians and dental health.
In this program, you will learn:
How energy channels and Meridians are used in ancient traditions

Demonstrate how to locate a tooth on the Meridian chart and how to locate the body connection

How the Energy Medicine "NeuroEmotional Technique" may be useful in assisting our healing

How holistic dentists can help patients connect the dots from a tooth problem to other health issues
KnoWEwell.com
KnoWEwell operates the private and secure Regenerative Whole Health Hub – the all-in-one, global, trusted online health and well-being solution – bridging the knowledge, access, and insurance gaps. Centralizing knowledge, education, and evidence-based resources. Connecting the ecosystem to collaboratively help individuals prevent harm, address the root causes of disease, and achieve WELLthier Living™!
Did you know you can curate your own learning library?
Among our plethora of membership benefits, you can create your own library! With a KnoWEwell Pathfinder membership, you get access to KnoWEwell's Education Center with 50+ (and growing) educational programs from today's top thought leaders and experts. Learn how to prevent and address the root causes of chronic disease. Keep track of the programs you have already viewed and watch them anytime you or your family need help. Join today, apply code BEWELL20 and receive 20% off your Pathfinder membership (or any other membership plan). That's just $8 a month to get started on your journey to achieve WELLthier Living – Happy. Healthy. Abundant. Purpose-Filled!