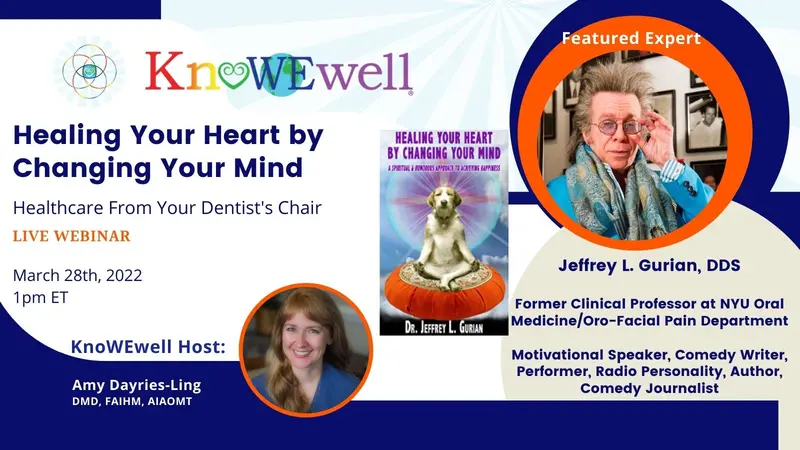 Healthcare From Your Dentist's Chair: Healing Your Heart by Changing Your Mind

Jeffrey Gurian, DDS, was burdened with a severe stutter into adulthood, seemingly unable to be helped by therapy. With low self-esteem, lack of confidence, and negative thinking, he believed he would never have the things that other people had.
He discovered that by examining his thoughts to find the negative ones that were not valid, releasing the "heart wounds" that affected the decisions he made, and staying connected to his inner child, he was able to heal himself of his stutter and go on to achieve all the things he feared he would never reach.
Jeffrey L. Gurian became a Cosmetic Dentist, a Clinical Professor at New York University School of Dentistry in the Oral Medicine/Oro-Facial Pain Department, a lecturer, comedy writer for many big stars, comedian, author, radio and TV personality, and a Spiritual Healer.  He also developed a very gentle system of talk and touch called STAR Therapy™ (Spiritual, Transformational, Affirmative, Resonance Therapy) to treat the physical symptoms of stress-related illness including migraine headaches, head/neck/shoulder/facial pain, dizziness, and Tinnitus, often associated with TMJ dysfunction.  
Being one of the only doctors with a long, successful career in comedy has given him a unique perspective on how to incorporate humor into one's life. Join him as he speaks with KnoWEwell Healing Advisor, Dr. Amy Dayries, DMD, FAIHM, AIAOMT, and host of Healthcare from Your Dentist's Chair, about his best-selling book, Healing Your Heart, By Changing Your Mind – A Spiritual and Humorous Approach To Achieving Happiness. In this book, he shares how he learned through his own personal experience and years of study to eliminate things and thoughts that seem to be blocking him from achieving health and happiness.
In this program, you will learn:
How to overcome the fear that stops us from achieving our goals

The principles of Dr. Gurian's STAR Therapy™  

The role of energy and spirituality in STAR Therapy™

How to stay connected to your "inner child" and create your own "Happiness Center"
KnoWEwell, P.B.C. 
KnoWEwell is the global Regenerative Whole HealthTM (RWH) benefits and services company. An award-winning, woman majority-owned, B Certified pending corporation, and 1% for the Planet member.
We operate KnoWEwell.com, the one online destination for today's trusted RWH knowledge, resources, and ecosystem collaborating to inspire and empower individuals to prevent harm, address chronic disease, and achieve WELLthier LivingTM.
We are on a mission to transform healthcare. We share knowledge and healing success stories, offer access to screened, verified and background-checked RWH practitioners, provide expert-led and peer-reviewed content and evidence-based resources, create meaningful connections, and help today's practitioners, and mission-aligned nonprofits and businesses prosper.