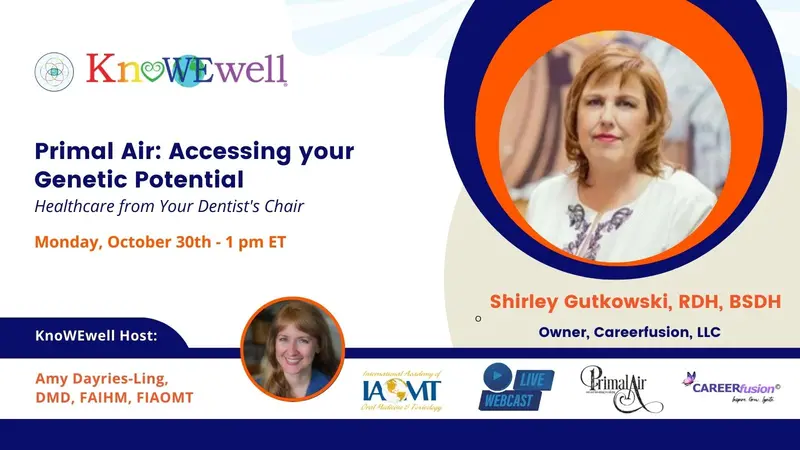 Healthcare from Your Dentist's Chair: Primal Air: Accessing your Genetic Potential

Shirley Gutkowski, RDH, BSDH, practiced clinical dental hygiene in the Madison, Wisconsin area from 1986 to 2003 when she turned her focused energy on writing and speaking. She educated dental and dental hygiene audiences for two decades, focusing on minimally invasive dentistry, plant materials that can alter oral microbiome, and benefits of xylitol, MI Paste, Novamin, and Nano Hydroxyapatite before learning the about the importance of developing the airway. Orofacial Myofunctional Therapy (OMT) became her new passion, and she started Primal Air to treat patients and teach dental and chiropractic practice owners how to identify orofacial myofunctional disorders and treat simple cases. Primal Air focuses on optimizing genetic potential from cradle to grave.
Learning Objectives:
How the face forms
How it impacts the ability to breath
The Impact on Sleep Apnea
KnoWEwell.com 
KnoWEwell operates the private and secure Regenerative Whole Health® Hub – the all-in-one, global, trusted online health and well-being solution – bridging the knowledge, access, and insurance gaps. Centralizing knowledge, education, and evidence-based resources. Connecting the ecosystem to collaboratively help individuals prevent harm, address the root causes of disease, and achieve WELLthier Living®! 
Did you know you can curate your own learning library? 
Among our plethora of membership benefits, you can create your own library! With a KnoWEwell Pathfinder membership, you get access to KnoWEwell's Education Center with 50+ (and growing) educational programs from today's top thought leaders and experts. Learn how to prevent and address the root causes of chronic disease. Keep track of the programs you have already viewed and watch them anytime you or your family need help. 
Join today, get started on your journey to achieve WELLthier Living – Happy. Healthy. Abundant. Purpose-filled!