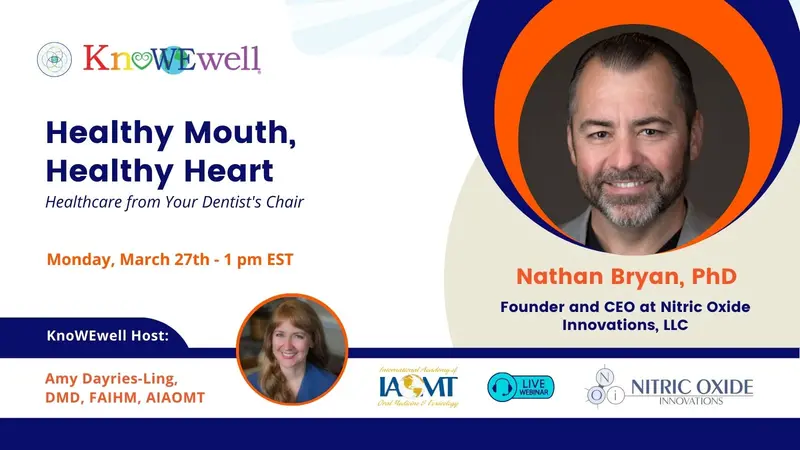 Healthy Mouth, Healthy Heart

Nitric oxide is critical to regulating blood pressure, neurotransmission and immune function. In fact, the loss of nitric oxide production is the earliest event in the onset and progression of cardiovascular disease and many other age-related diseases.
Research over the past decade has revealed that oral commensal bacteria are responsible for nitric oxide production. When oral bacteria is disrupted by the common use of antiseptic mouthwash or an overgrowth of pathogenic bacteria, nitric oxide production can decline.
The impact? Patients with poor oral hygiene, periodontal disease and gingivitis have increased incidence of cardiovascular disease.
Dr. Nathan Bryan has been involved in nitric oxide research for the past 20 years and has made many seminal discoveries in the field, resulting in several US and International patents, product technology and inventions, as well as improved patient care worldwide.
In this program, Dr. Bryan explains the link between oral health and cardiovascular disease and the role of nitric oxide in maintaining overall health. You will learn:
What is nitric oxide?

How oral bacteria are involved in the production of nitric oxide

Symptoms of nitric oxide deficiency

How to restore nitric oxide levels
International Academy of Oral Medicine and Toxicology (IAOMT)
The International Academy of Oral Medicine and Toxicology (IAOMT) is a global network of dentists, health professionals, and scientists who research the biocompatibility of dental products, including the risks ofmercury fillings,fluoride,root canals, andjawbone osteonecrosis. It is a non-profit organization and has been dedicated to their mission of protecting public health and the environment since they were founded in 1984.
KnoWEwell.com
KnoWEwell operates the private and secure Regenerative Whole Health Hub – the all-in-one, global, trusted online health and well-being solution – bridging the knowledge, access, and insurance gaps. Centralizing knowledge, education, and evidence-based resources. Connecting the ecosystem to collaboratively help individuals prevent harm, address the root causes of disease, and achieve WELLthier Living™!
Did you know you can curate your own learning library?
Among our plethora of membership benefits, you can create your own library! With a KnoWEwell Pathfinder membership, you get access to KnoWEwell's Education Center with 50+ (and growing) educational programs from today's top thought leaders and experts. Learn how to prevent and address the root causes of chronic disease. Keep track of the programs you have already viewed and watch them anytime you or your family need help. Join today, apply code BEWELL20 and receive 20% off your Pathfinder membership (or any other membership plan). That's just $8 a month to get started on your journey to achieve WELLthier Living – Happy. Healthy. Abundant. Purpose-Filled!