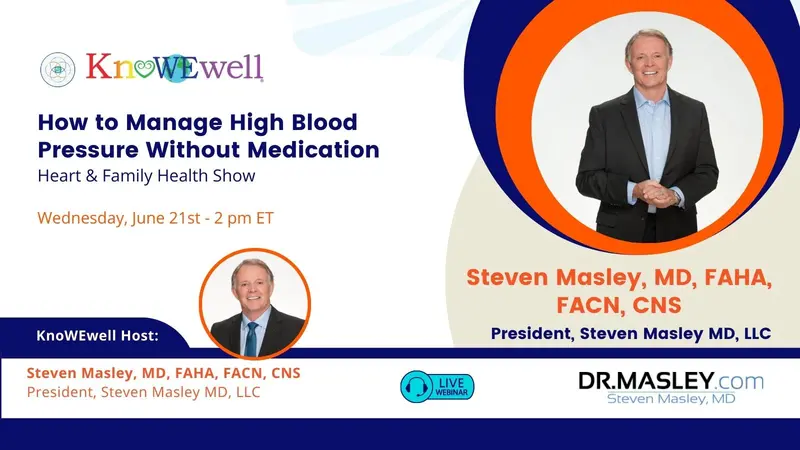 Heart and Family Health: How to Manage High Blood Pressure Without Medication

High blood pressure is the most important risk factor in predicting heart disease. The reason is simple—blood pressure is not merely a risk factor; it is also a direct marker of blood vessel function. And elevated blood pressure means that the arteries are sick and dysfunctional, growing arterial plaque, and decreasing blood flow.
In this program you will learn:
Causes of Hypertension
Steps to Improve Blood Pressure Control without Taking Medications
KnoWEwell.com
KnoWEwell operates the private and secure Regenerative Whole Health Hub – the all-in-one, global, trusted online health and well-being solution – bridging the knowledge, access, and insurance gaps. Centralizing knowledge, education, and evidence-based resources. Connecting the ecosystem to collaboratively help individuals prevent harm, address the root causes of disease, and achieve WELLthier Living™!
Did you know you can curate your own learning library?
Among our plethora of membership benefits, you can create your own library! With a KnoWEwell Pathfinder membership, you get access to KnoWEwell's Education Center with 50+ (and growing) educational programs from today's top thought leaders and experts. Learn how to prevent and address the root causes of chronic disease. Keep track of the programs you have already viewed and watch them anytime you or your family need help. Join today, apply code BEWELL20 and receive 20% off your Pathfinder membership (or any other membership plan). That's just $8 a month to get started on your journey to achieve WELLthier Living – Happy. Healthy. Abundant. Purpose-Filled!