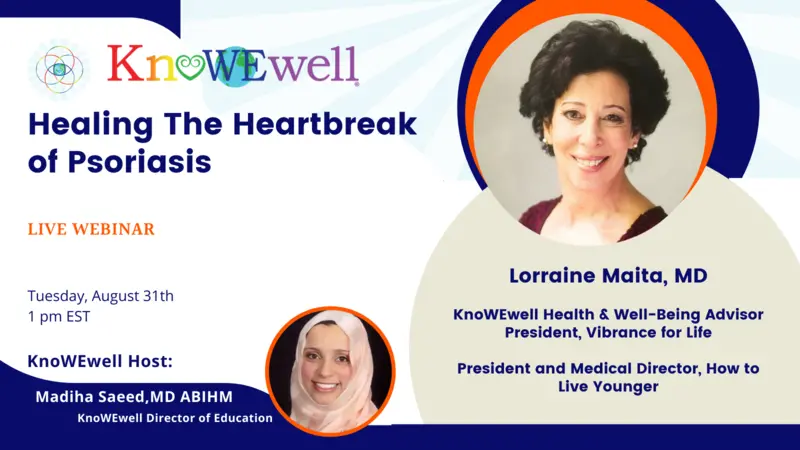 The Heartbreak of Psoriasis with Lorraine Maita, MD

Do you know someone who is experiencing the heartbreak of psoriasis? Psoriasis affects millions of people, approximately 3% of the US population. It is an autoimmune condition of the skin, where the immune system overreacts, causing inflammation, leading to new skin cells growing too fast causing a buildup on the surface that creates the appearance of scaling, often leading to physical and emotional discomfort. 
Fortunately, there is a path to healing. On August 31st, Dr. Madiha Saeed is joined by award-winning holistic, functional and anti-aging physician and author, Lorraine Maita, MD to discuss this condition and holistic treatments and lifestyle changes that can help you or your loved ones reduce the toll of this painful autoimmune malfunction.
In this webinar, you will learn:
What psoriasis is and how the "March of Psoriasis" can affect much more than skin, nails and joints

The triggers and root cause that lead to flares and how to manage them

How to easily implement some lifestyle measures to give you relief and treat the root cause so you can enjoy the health and well-being you deserve

With a few simple changes, you can clear your condition and be free of pain and heartbreak of psoriasis
KnoWEwell, P.B.C.
KnoWEwell is the global Regenerative Whole Health (RWH) benefits and services company. An award-winning, woman majority-owned, B Certified pending corporation and 1% for the Planet member.
We operate KnoWEwell.com, the one online destination for today's trusted Regenerative Whole Health knowledge, resources, and ecosystem collaborating to inspire and empower individuals to prevent harm, address chronic diseases and achieve WELLthier Living. 
We are on a mission to transform healthcare, as we share knowledge and healing success stories, provide access to screened, verified and background-checked RWH practitioners, as well as expert-led and peer-reviewed content, evidence-based resources, create meaningful connections, and help today's providers, mission-aligned nonprofits, and businesses prosper.