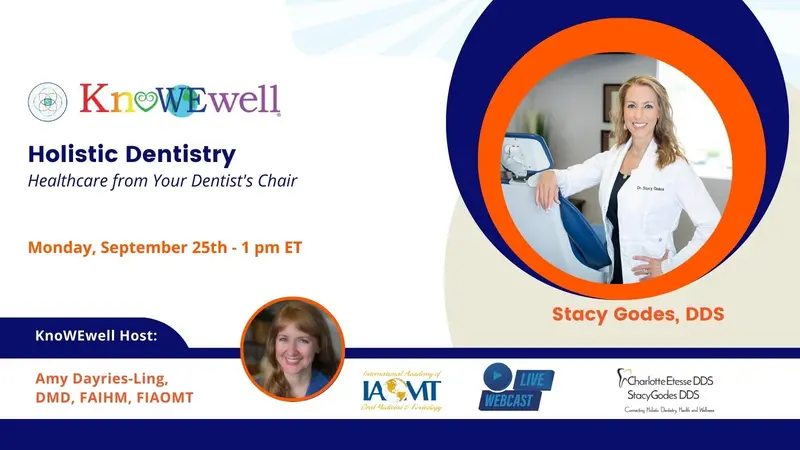 Holistic Dentistry: Healthcare From Your Dentist's Chair

Dr. Godes, a holistic dentist for over 23 years, joins Dr. Dayries-Ling on the Healthcare from Your Dentist's Chair show. Holistic dentistry focuses on the mouth as an integral part of your whole body that plays a key role in your overall health. This integrative approach looks at each part of the body and how it connects with each other part, and assumes that no part works in isolation from any other. The guiding principle of holistic dentistry is that by taking care of the entire body, along with proper dental care, our total health will improve and have a positive aspect on our lives.  
Learning Objectives:
What is holistic or integrative dentistry and how it can benefit patients 
The principles behind a more alternative (non-traditional) comprehensive approach to dentistry
The research behind the toxicity of mercury fillings and the alternatives to using this type of filling material 
Build knowledge of how 3D cone beam technology can be a more effective way of diagnosing hidden infections in your mouth 
The alternative treatment options that are incorporated into a holistic dental practice and how to ask better, informed questions to the dentist about these treatments.
KnoWEwell.com 
KnoWEwell operates the private and secure Regenerative Whole Health® Hub – the all-in-one, global, trusted online health and well-being solution – bridging the knowledge, access, and insurance gaps. Centralizing knowledge, education, and evidence-based resources. Connecting the ecosystem to collaboratively help individuals prevent harm, address the root causes of disease, and achieve WELLthier Living®! 
Did you know you can curate your own learning library? 
Among our plethora of membership benefits, you can create your own library! With a KnoWEwell Pathfinder membership, you get access to KnoWEwell's Education Center with 50+ (and growing) educational programs from today's top thought leaders and experts. Learn how to prevent and address the root causes of chronic disease. Keep track of the programs you have already viewed and watch them anytime you or your family need help. 
Join today, get started on your journey to achieve WELLthier Living – Happy. Healthy. Abundant. Purpose-filled!