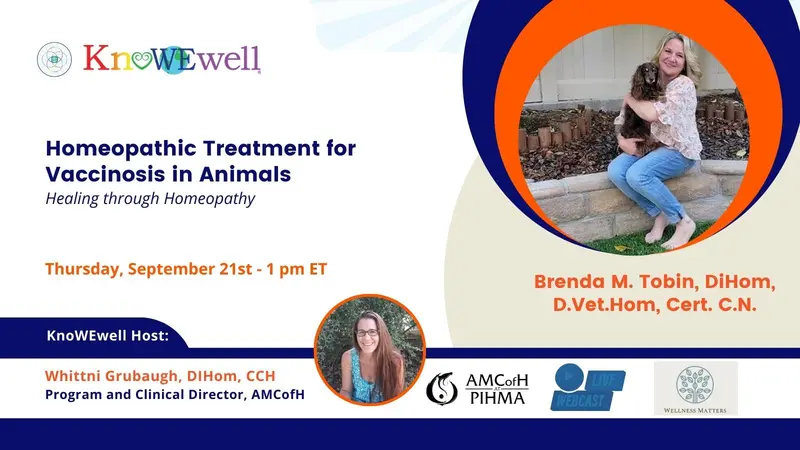 Homeopathic Treatment for Vaccinosis in Animals: Healing Through Homeopathy

Homeopath Brenda Tobin often sees animals in her clinic suffering from vaccinosis. Vaccinosis is a term used in homeopathic medicine to describe a state of imbalance or illness that may result from vaccinations, especially over vaccinating which we often see in animals.  Homeopathic treatment for vaccinosis aims to address and mitigate the adverse effects of vaccinations.  In this presentation, Brenda will review the process for addressing the condition.
Learning Objectives:
Individualized Assessment

The first and foremost objective of homeopathic treatment for vaccinosis is to conduct a thorough and individualized assessment of the animal's health.  This involves understanding the animal's medical history, vaccine history, diet and current symptoms  Each animal is unique and homeopathic remedies are selected based on the specific mental/emotional and physical imbalances - or symptoms- of that being.

Symptom Alleviation

One of the primary goals of homeopathic treatment for vaccinosis is to alleviate the immediate and long-term imbalances associated with vaccination related symptoms.  These symptoms can vary widely from allergies and digestive issues to behavioral changes, seizures and chronic illnesses. 

Prevention and Education

Our goal as homeopathic practitioners is to strengthen immunity and bring the body back into balance.  My goal is to promote long-term health and well-being of the animal.  By addressing the root cause of health issues related to vaccinations, homeopathy aims to help animals live happy, healthier lives.
KnoWEwell.com 
KnoWEwell operates the private and secure Regenerative Whole Health Hub – the all-in-one, global, trusted online health and well-being solution – bridging the knowledge, access, and insurance gaps. Centralizing knowledge, education, and evidence-based resources. Connecting the ecosystem to collaboratively help individuals prevent harm, address the root causes of disease, and achieve WELLthier Living™! 
Did you know you can curate your own learning library? 
Among our plethora of membership benefits, you can create your own library! With a KnoWEwell Pathfinder membership, you get access to KnoWEwell's Education Center with 50+ (and growing) educational programs from today's top thought leaders and experts. Learn how to prevent and address the root causes of chronic disease. Keep track of the programs you have already viewed and watch them anytime you or your family need help. 
Join today, get started on your journey to achieve WELLthier Living – Happy. Healthy. Abundant. Purpose-filled!