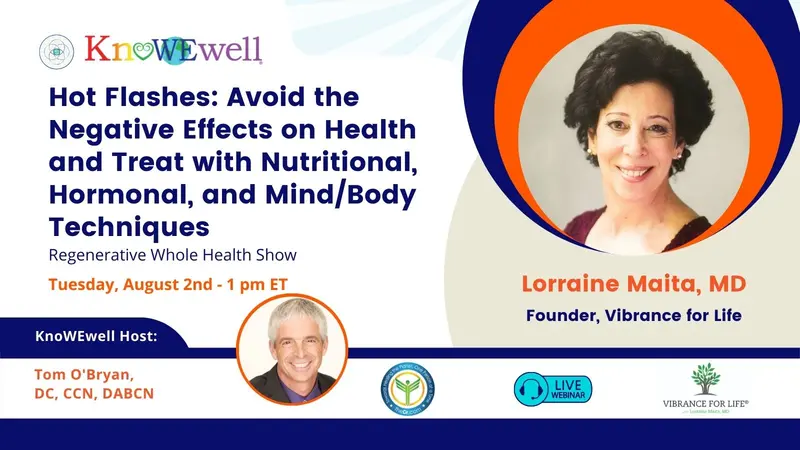 Hot Flashes - Avoid the Negative Effects on Health and Treat with Nutritional, Hormonal and Mind/Body Techniques

A hot flash is the sudden feeling of warmth in the upper body, usually felt more intensely over the face, neck and chest. You may become flushed, have a rapid heartbeat, perspire and even feel anxious. The frequency and intensity varies among women.
Hot flashes can last up to 5 minutes and can also increase the risk of many conditions as well as decrease the quality of life. They commonly occur in perimenopause before periods stop and occur well into menopause. They can even last up to 10 years.
Lorraine Maita, MD, joins KnoWEwell's Chief Health Officer, Dr. Tom O'Bryan, to share simple strategies to help women live the vibrant, healthy life they were meant to.  
In this program you will learn:
Risk factors that increase hot flashes
The impact of hot flashes on your overall health
Lifestyle and hormonal factors that influence hot flashes
Natural treatments that decrease or eliminate hot flashes  
KnoWEwell.com
KnoWEwell operates the private and secure Regenerative Whole Health Hub – the all-in-one, global, trusted online health and well-being solution – bridging the knowledge, access, and insurance gaps. Centralizing knowledge, education, and evidence-based resources. Connecting the ecosystem to collaboratively help individuals prevent harm, address the root causes of disease, and achieve WELLthier Living™!
Did you know you can curate your own learning library?
Among our plethora of membership benefits, you can create your own library! With a KnoWEwell Pathfinder membership, you get access to KnoWEwell's Education Center with 50+ (and growing) educational programs from today's top thought leaders and experts. Learn how to prevent and address the root causes of chronic disease. Keep track of the programs you have already viewed and watch them anytime you or your family need help. Join today, apply code BEWELL20 and receive 20% off your Pathfinder membership (or any other membership plan). That's just $8 a month to get started on your journey to achieve WELLthier Living – Happy. Healthy. Abundant. Purpose-Filled!