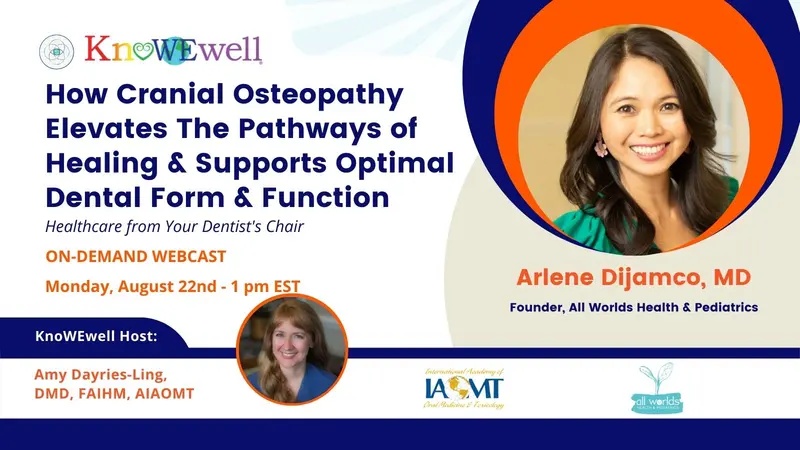 How Cranial Osteopathy Elevates The Pathways of Healing and Supports Optimal Dental Form and Function

Dr. Amy Dayries-Ling, DMD, FAIHM, AIAOMT, and a Health and Well-Being advisor to KnoWEwell, hosts a monthly webinar series, "Healthcare From Your Dentist's Chair". She is the first dental fellow of the Academy of Integrative Health & Medicine and is leading the way to better patient experiences and health outcomes in her practice, Whole Healing Dental. 
Dr. Dayries-Ling features experts from her industry and explores the integrative approach to dentistry. Join her on Monday, August 22nd, as she sits down with Dr. Arlene Dijamco, founder of All Worlds Health & Pediatrics and a cranial osteopathy specialist.
In this episode you will learn how cranial osteopathy:
Can be used to help prevent and treat disease

Can enhance overall health

Has the potential to benefit many conditions such as brain injuries, sinusitis, neck and back pain, and more

Supports dental forms and functions
_________________________
Did you know you as a KnoWEwell member you can curate your own learning library?
Among our plethora of membership benefits, you can create your own library! With a KnoWEwell Pathfinder and other membership plans, you get access to KnoWEwell's Education Center with 50+ (and growing) educational programs from today's top thought leaders and experts. Learn how to prevent and address the root causes of chronic disease. Keep track of the programs you have already viewed and watch them anytime you or your family need help. Join KnoWEwell today, apply code BEWELL20 and receive 20% off your Pathfinder membership (or any other membership plan). That's just $8 a month to get started on your journey to achieve WELLthier Living® – Happy. Healthy. Abundant. Purpose-Filled! 
KnoWEwell.com
KnoWEwell operates the private and secure Regenerative Whole HealthTM Hub – the all-in-one, global, trusted online health and well-being solution – bridging the knowledge, access, and insurance gaps. Centralizing knowledge, education, and evidence-based resources. Connecting the ecosystem to collaboratively help individuals prevent harm, address the root causes of disease, and achieve WELLthier Living!