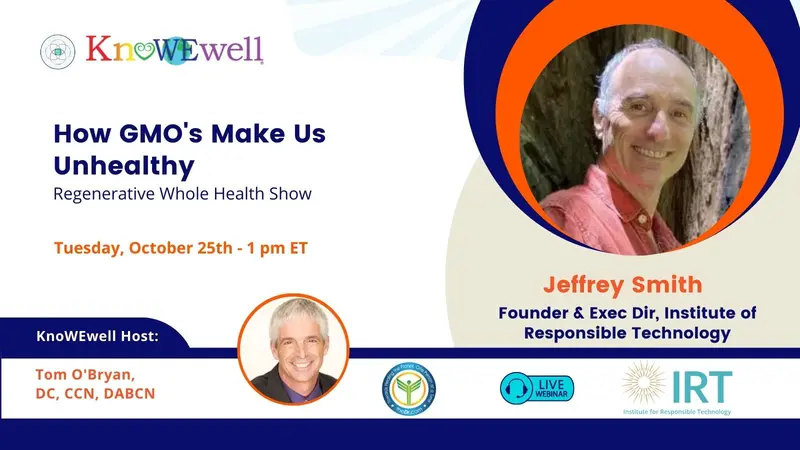 How GMOs Make Us Unhealthy - Regenerative Whole Health Show

The leading consumer advocate for non-GMO food choices, Jeffrey Smith, was named the 2017 "Person of the Year" by Masters of Health Magazine. His global bestseller, Seeds of Deception, inspired the anti-GMO movement, educating consumers that GMOs are unsafe and urging the food industry to remove them.
Jeffrey Smith joins Dr. Tom O'Bryan, KnoWEwell's Chief Health officer, to discuss how genetically modified organisms negatively affect our health.
In this program you will learn:
Health statistics associated with switching to an organic, GMO-free diet

Can GMOs cause leaky gut?

How GMOs and Roundup

®

activate immune responses, damage the microbiome and impact nutrient absorption
KnoWEwell.com
KnoWEwell operates the private and secure Regenerative Whole Health Hub – the all-in-one, global, trusted online health and well-being solution – bridging the knowledge, access, and insurance gaps. Centralizing knowledge, education, and evidence-based resources. KnoWEwell is connecting the ecosystem to collaboratively help individuals prevent harm, address the root causes of disease, and achieve WELLthier Living™!
Did you know you can curate your own learning library?
Among our plethora of membership benefits, you can create your own library! With a KnoWEwell Pathfinder membership, you get access to KnoWEwell's Education Center with 50+ (and growing) educational programs from today's top thought leaders and experts. Learn how to prevent and address the root causes of chronic disease. Keep track of the programs you have already viewed and watch them anytime you or your family need help. Join today, apply code BEWELL20 and receive 20% off your Pathfinder membership (or any other membership plan). That's just $8 a month to get started on your journey to achieve WELLthier Living – Happy. Healthy. Abundant. Purpose-Filled!