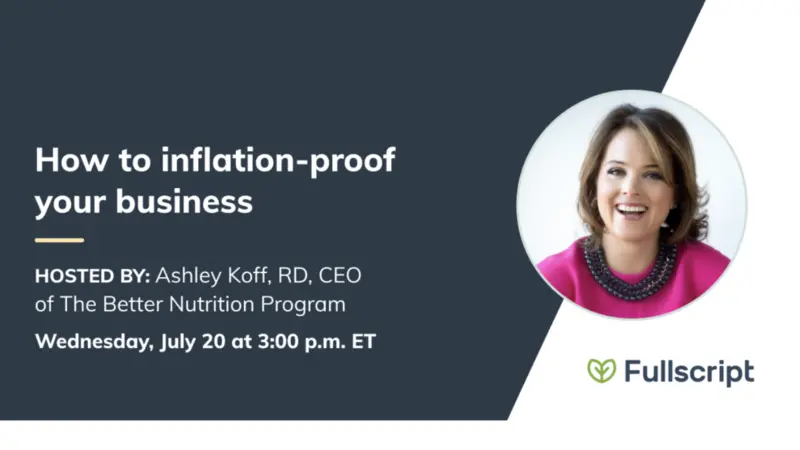 How to Inflation-Proof Your Business

THIS WEBINAR WILL BE AVAILABLE ON-DEMAND FROM FULLSCRIPT SHORTLY AFTER THE DATE OF THE LIVE WEBINAR USING THE SAME REGISTRATION LINK.
These are uncertain times – and uncertain financials make patients, who are already hesitant to invest in their health, even more apprehensive. Right now patients feel price-sensitive and YOU, the practitioner who can heal them but who also asks them to spend $ on specific supplements and/or lab tests, may come across as unaffordable.
The patient landscape is already filled with low-price direct-to-consumer offers promising personalized health solutions that compete with you. Now more than ever it is essential that your business has an inflation-proof plan that helps you show (not tell) patients how you will help them and how it will be affordable as well as doable during these times of uncertainty.
Join Ashley Koff, RD, founder of The Better Nutrition Program and a 20+ year personalized nutrition expert practitioner for an interactive webinar session where you will hear more on the following practice management tactics:
Learn the 4 pillars of an inflation-proof plan
Evaluate your business for weaknesses that you can turn into better offers
Determine your vetting system for choosing how you spend & allocate your resources
Can't make the scheduled time? Don't worry! We'll be sending a recording to all registrants after the live event, and you can find all Fullscript webinars at www.fullscript.com/webinars.
---
About Ashley Koff:
Ashley Koff RD, founder of The Better Nutrition Program, has helped thousands of patients and practitioners discover the transformation power of truly personalized nutrition. The Better Nutrition Program delivers a proven system, The BNP Toolkit™, a full suite of tools for practitioners to easily develop and implement personalized nutrition recommendations. Ashley Koff RD brings 20+ years as a private practice dietitian, media expert, author and practitioner mentor to her work developing tools and programs for The Better Nutrition Program. Koff has authored two books, two chapters in practitioner texts, and is a notable speaker at Integrative & Functional Medicine conferences.  
About the Better Nutrition Program:
At The Better Nutrition Program, our primary focus is making it easier for practitioners to successfully develop and implement personalized nutrition recommendations to achieve optimal patient and business outcomes. Our system helps them attract, convert, and continuously engage patients – without having to spend hundreds of hours, money and develop additional expertise in marketing. We are making running a private practice – whether a full-time or part-time endeavor – more successful, less frustrating and ultimately more rewarding for each practitioner.  Doctors, naturopaths, chiropractors, acupuncturists, dietitians, nutritionists, certified nutrition specialists, pharmacists, and health coaches are reaping the benefits of using The BNP Toolkit™ and we invite you to do the same. Book a demo with us here.