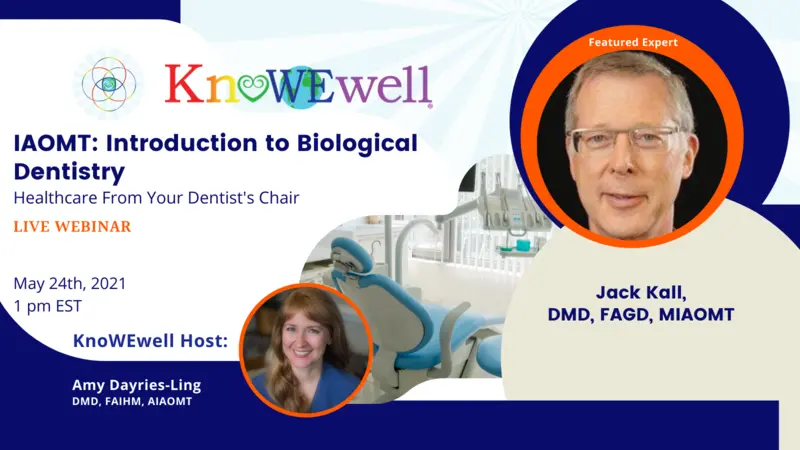 IAOMT: Introduction to Biological Dentistry

Dr. Amy Dayries-Ling, DMD, FAIHM, AIAOMT, and a Health and Well-Being advisor to KnoWEwell, hosts a monthly webinar series, "Healthcare from Your Dentist's Chair". She is the first dental fellow of the Academy of Integrative Health & Medicine and is leading the way to better patient experiences and health outcomes in her practice, Whole Healing Dental. 
Dr. Dayries-Ling features experts from her industry and explores the integrative approach to dentistry. Join her on Monday, May 24th, as she sits down with Dr. Jack Kall, Chairman of the Board of Directors from our Collaborative Partner, The International Academy of Oral Medicine and Toxicology (IAOMT). Together, they will discuss Biological Dentistry, what it is, and how it relates to Traditional Dentistry.
KnoWEwell® 
KnoWEwell is the one destination for today's trusted Regenerative Whole Health™ knowledge, resources and community. The global community and marketplace ecosystem collaborating to inspire and empower individuals to achieve WELLthier Living™.
Join the movement as we share knowledge and healing success stories, provide access to evidence-based resources, create meaningful connections and help today's providers, mission-aligned nonprofits and businesses opportunities prosper. 
We are transforming the healthcare we know.