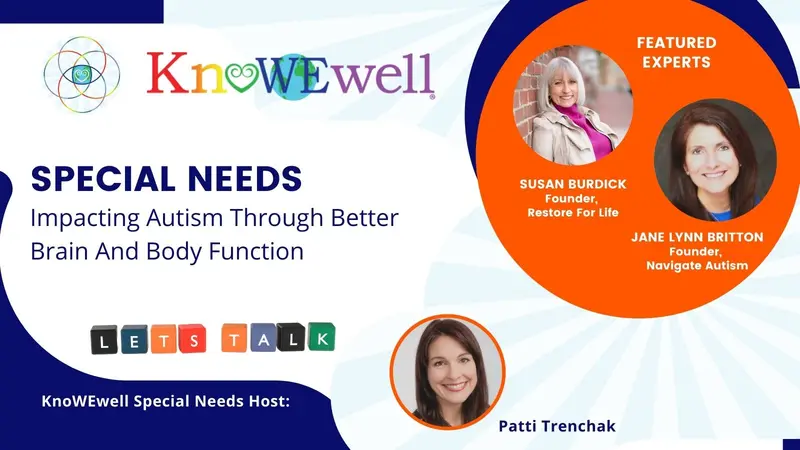 Impacting Autism through Better Brain And Body Function

Autism Spectrum Disorder affects roughly 1 in 50 children in the US, according to the Centers for Disease Control & Prevention. Jane Lynn Britton, co-host of "Let's Talk Special Needs" and founder of Navigate Autism, and Susan Burdick, founder of Restore for Life, discuss the intricate synergy between brain and body function and how to help move your child towards greater functioning and independence by regenerating whole-body health.  
In this program you will learn:
The importance and benefits of the brain-body connection

What is brain and body dysfunction and how it can affect our children

How to reconnect the brain and body communication channels  

How to support improved health, learning, and behaviors in your children
KnoWEwell® 
KnoWEwell is the one destination for today's trusted Regenerative Whole Health™ knowledge, resources and community. The global community and marketplace ecosystem collaborating to inspire and empower individuals to achieve WELLthier Living™.
Join the movement as we share knowledge and healing success stories, provide access to evidence-based resources, create meaningful connections and help today's providers, mission-aligned nonprofits and businesses opportunities prosper. 
We are transforming the healthcare we know.