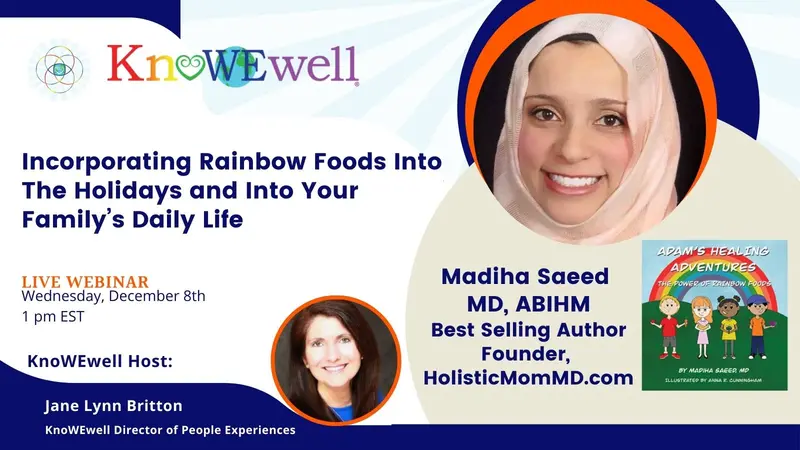 Incorporating Rainbow Foods Into The Holidays and Into Your Family's Daily Life

KnoWEwell's Director of Education, board-certified holistic family physician, international speaker, and award-winning author, Dr. Madiha Saeed, educates and empowers children of all ages about the healing power red, orange, yellow, green, blue, purple, brown, tan and white foods in Adam's Healing Adventures: The Power of Rainbow Foods.
In her children's book and in this educational program, Dr. Madiha explains how real Rainbow Foods can help the body work better, fight sickness, lower inflammation, optimize the immune system, get rid of toxins, and are packed with antioxidants.
Join KnoWEwell host, Jane Lynn Britton, as she sits down with Dr. Saeed to discuss the power of Rainbow Foods and how you can easily incorporate them into your daily routine.
In this program you will learn:
What are Rainbow Foods?

How food influences your genes and your mental and physical self

The role of Rainbow Foods in healing your body and boosting your immune system

Rainbow Food recipes for the holidays
KnoWEwell, P.B.C. 
KnoWEwell is the global Regenerative Whole HealthTM (RWH) benefits and services company. An award-winning, woman majority-owned, B Certified pending corporation, and 1% for the Planet member.
We operate KnoWEwell.com, the one online destination for today's trusted RWH knowledge, resources, and ecosystem collaborating to inspire and empower individuals to prevent harm, address chronic disease, and achieve WELLthier LivingTM. 
We are on a mission to transform healthcare. We share knowledge and healing success stories, offer access to screened, verified and background-checked RWH practitioners, provide expert-led and peer-reviewed content and evidence-based resources, create meaningful connections, and help today's practitioners, and mission-aligned nonprofits and businesses prosper.