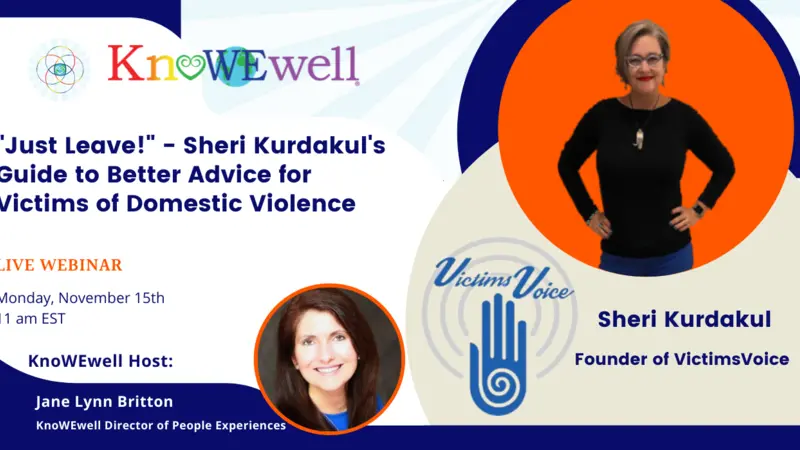 "Just Leave!" - Sheri Kurdakul's Guide to Better Advice for Victims of Domestic Violence

The reality of domestic violence in the US is that it affects 13 million people a year. Of those, 4,000 will die. Survivors will return to their abusers an average of 7 times before "just leaving," 99% of them have been financially abused. Thirty-eight percent will become homeless at some point in their lives. And all of them will suffer a lifetime of lasting health effects from the trauma.  
Join us to gain insights into some of the dangers victims face when needing to get help or care, what practitioners can do to mitigate residual abuse, and what you can do to support a victim/survivor to help themselves. 
KnoWEwell, P.B.C.  
KnoWEwell is the global Regenerative Whole HealthTM (RWH) benefits and services company. An award-winning, woman majority-owned, B Certified pending corporation, and 1% for the Planet member. 
We operate KnoWEwell.com, the one online destination for today's trusted RWH knowledge, resources, and ecosystem collaborating to inspire and empower individuals to prevent harm, address chronic disease, and achieve WELLthier LivingTM.  
We are on a mission to transform healthcare. We share knowledge and healing success stories, offer access to screened, verified and background-checked RWH practitioners, provide expert-led and peer-reviewed content and evidence-based resources, create meaningful connections, and help today's practitioners, and mission-aligned nonprofits and businesses prosper.