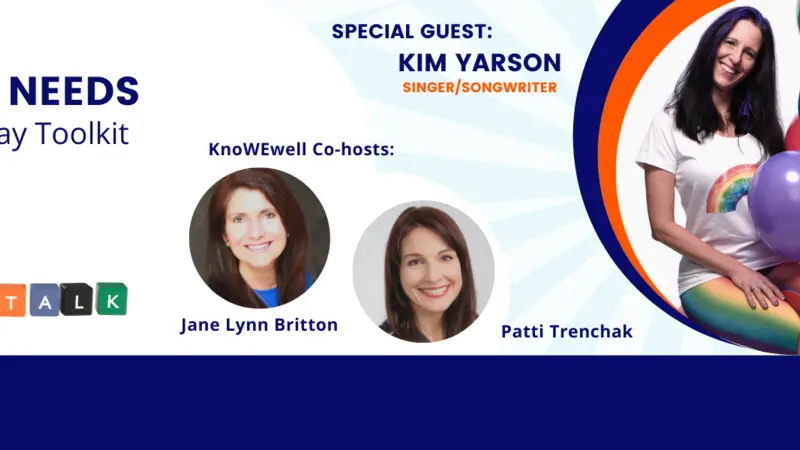 Let's Talk Special Needs - Holiday Toolbox

Worried about what to do with your special needs child over the holidays? The holiday toolbox is an excellent solution! Join Jane Lynn Britton and Patti Trenchak as they continue their Healthy, Happy Holidays series of "Let's Talk Special Needs" on December 11th at 12pm EST. Learn how to fill your toolbox with everything you need to engage your child during this stressful time of year. Find out how to create interactive games and fun activities. An award-winning singer-songwriter for kids will make an appearance to play an array of children's songs that have uplifting messages. Children are welcome to watch, sing, and dance along with the webinar as we prepare for this joyous holiday season.
KnoWEwell is a global community and marketplace. The one online destination for today's trusted Regenerative Whole Health™ knowledge, resources and community. We are an ecosystem collaborating to inspire and empower individuals to achieve WELLthier Living™. Join the movement as we share knowledge and healing success stories, provide access to evidence-based resources, create meaningful connections and help today's providers, mission-aligned nonprofits and businesses opportunities prosper. We are transforming the healthcare we know. We are KnoWEwell.
REGENERATIVE WHOLE HEALTH™
We're bridging the knowledge gap, connecting the dots between soil, food, lifestyle choices, planet and people health.
One trusted space for all of today's global healing, health and well-being approaches, therapies, and providers with respect for the connections between the whole unique person and our planet.
Everything you, your family and your patients need for collaborative engagement to make optimal informed decisions.