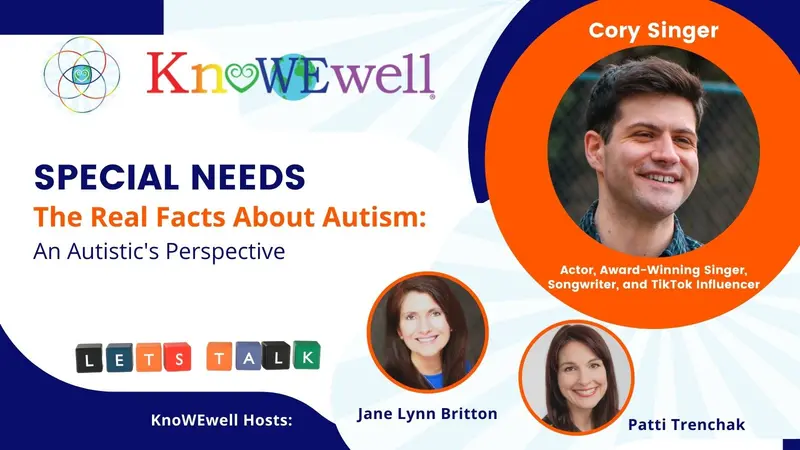 Let's Talk Special Needs: The Real Facts About Autism: An Autistic's Perspective

Cory Singer is an actor, award-winning singer, exceptional songwriter, and TikTok influencer. And, he is autistic!  Cory captivates his audiences wherever he goes. In 2020, he was preparing to perform in a musical in New York City when COVID-19 hit. He decided to start sharing his journey with autism on TikTok and has since become an inspiration to families and other adults living with autism.  
 Through his music, TikTok videos, and humor, Cory has become an advocate for autism acceptance. He believes that there's a difference between being aware of autism and being accepting of it. Cory's message is that autism is a spectrum of different people with different needs. He hopes to raise awareness and understanding so those needs can be accepted. 
Join us as Cory gives insight into the lives and minds of those with autism as he discusses: 
Living with the stereotypes of autism

 

Suggestions for movies that "got it right" about autism

 

Tips for parents and educators

 
KnoWEwell, P.B.C. 
KnoWEwell is the global Regenerative Whole HealthTM (RWH) benefits and services company. An award-winning, woman majority-owned, B Certified pending corporation, and 1% for the Planet member. 
We operate KnoWEwell.com, the one online destination for today's trusted Regenerative Whole Health knowledge, resources, and ecosystem collaborating to inspire and empower individuals to prevent harm, address chronic disease, and achieve WELLthier Living™.  
We are on a mission to transform healthcare, as we share knowledge and healing success stories, offer access to screened, verified and background-checked RWH practitioners, provide expert-led and peer-reviewed content and evidence-based resources, create meaningful connections, and help today's practitioners, and mission-aligned nonprofits and businesses prosper.