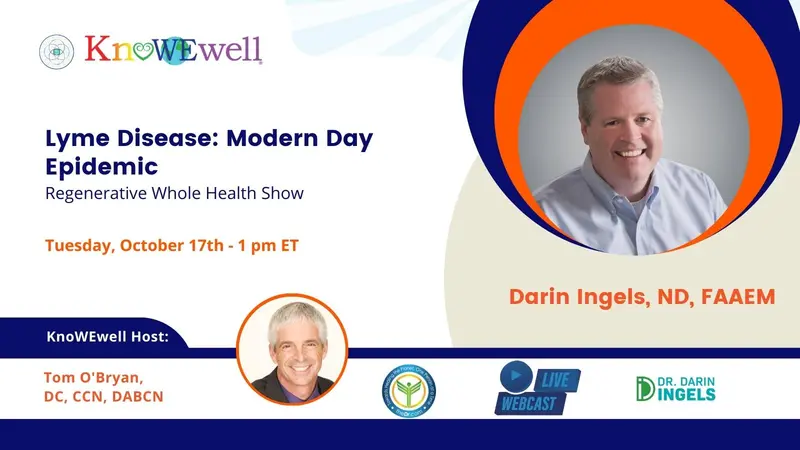 Lyme Disease: Modern Day Epidemic: Regenerative Whole Health Show

Lyme disease is the fastest growing infectious disease in the world, with more than 456,000 new cases diagnosed in the United States each year. Called "The Great Imitator," Lyme disease presents like many other illnesses and is often under or misdiagnosed. People often spend months to years searching for answers to their chronic health issues and have no idea that Lyme disease could be the culprit of their unexplained symptoms. In this talk, Dr. Darin Ingels and Dr. Tom O'Bryan will discuss how to find out if you have Lyme disease and steps you can take to restore your health.
Learning Objectives:
Learn how to know if you have Lyme disease.
Learn strategies to treat active infection.
Learn how lifestyle and diet play important roles in recovery.
theDr.com 
If you have struggled with your health, despite months or even years of investigation and intervention, you're in the right place. 
The vast majority of diseases of the last few hundred years have been reduced or eliminated with the tremendous progress in medical research. In their place however, other health hurdles have exploded, like autoimmune disease, metabolic disease, blood sugar issues, food sensitivities, fatigue, brain fog,  and more. And to this, a long list of advanced lifestyle diseases like obesity, diabetes, cardiovascular disease, Alzheimer's, etc. To address lifestyle diseases requires a different type of thinking. You cannot arrest Alzheimer's disease with medication. You cannot reverse obesity (and all of its complications) with a pill. 
Arresting the progression of lifestyle diseases and reversing many health hurdles and symptoms is an inside job – healing from the inside out, one cell at a time. 
KnoWEwell.com 
KnoWEwell operates the private and secure Regenerative Whole Health ® Hub – the all-in-one, global, trusted online health and well-being solution – bridging the knowledge, access, and insurance gaps. Centralizing knowledge, education, and evidence-based resources. Connecting the ecosystem to collaboratively help individuals prevent harm, address the root causes of disease, and achieve WELLthier Living™! 
Did you know you can curate your own learning library? 
Among our plethora of membership benefits, you can create your own library! With a KnoWEwell Pathfinder membership, you get access to KnoWEwell's Education Center with 50+ (and growing) educational programs from today's top thought leaders and experts. Learn how to prevent and address the root causes of chronic disease. Keep track of the programs you have already viewed and watch them anytime you or your family need help. 
Join today, get started on your journey to achieve WELLthier Living – Happy. Healthy. Abundant. Purpose-filled!