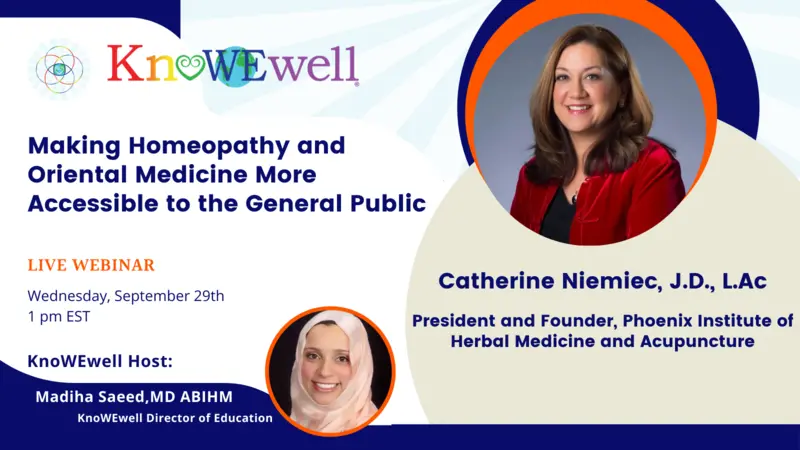 Making Homeopathy and Oriental Medicine More Accessible to the General Public

Catherine Niemiec, JD, LAc, is a leading expert in Oriental Medicine and Homeopathy. She is  president and founder of the Phoenix Institute of Herbal Medicine & Acupuncture. Catherine served as vice-president of the Council of Colleges of Acupuncture & Oriental Medicine and as a chair and commissioner for the Accreditation Commission for Acupuncture & Oriental Medicine. She has also served as president of the Arizona Society of Acupuncture & Oriental Medicine, co-founder of Asian Medicine Acupuncturists of Arizona, and vice-president of the Council of Homeopathic Schools & Colleges. 
In 2001, the Foundation for PIHMA Research & Education provides support and funding for scholarships, research, medical clinics, education, and charitable assistance to the general public, and brings greater awareness of Asian and traditional medicines to the public. The foundation has also formed the National Library of Traditional Medicine (www.nloftm.org) to house and manage collections from several colleges, including PIHMA and the American Medical College of Homeopathy. Most recently, the foundation expanded its research capabilities with the assumption of the nonprofit Institutional Research Board (IRB) in homeopathy and AMCH, a nongovernmental organization. IRB and AMCH were since expanded to include acupuncture research and activities. The foundation conducts research on acupuncture and homeopathy, as well as other areas.
Join us on Wednesday, September 29th at 1pm EST, as Catherine sits down with KnoWEwell and shares how the AMCH, PIHMA, and PIHMA-FPRE have helped raise awareness and access to Herbal, Homeopathic, and Oriental medicine.
KnoWEwell, P.B.C.
KnoWEwell is the global Regenerative Whole Health (RWH) benefits and services company. An award-winning, woman majority-owned, B Certified pending corporation and 1% for the Planet member.
We operate KnoWEwell.com, the one online destination for today's trusted Regenerative Whole Health knowledge, resources, and ecosystem collaborating to inspire and empower individuals to prevent harm, address chronic diseases and achieve WELLthier Living. 
We are on a mission to transform healthcare, as we share knowledge and healing success stories, provide access to screened, verified and background-checked RWH practitioners, as well as expert-led and peer-reviewed content, evidence-based resources, create meaningful connections, and help today's providers, mission-aligned nonprofits, and businesses prosper.