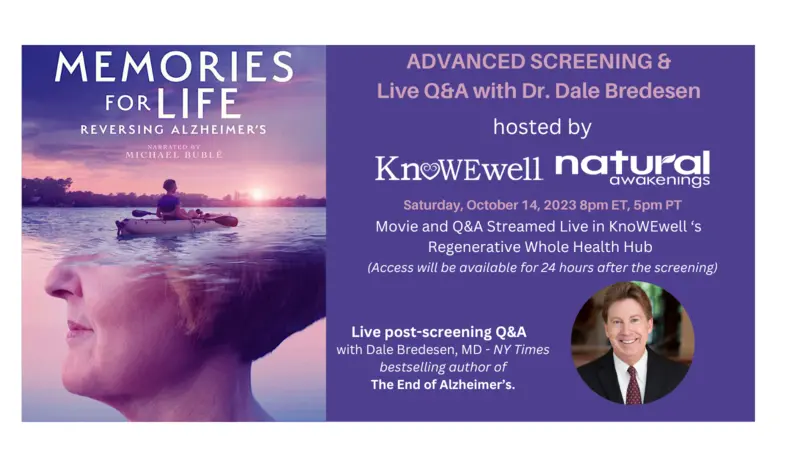 Memories for Life: Post Screening Discussion

MEMORIES FOR LIFE, narrated by Grammy Winner Michael Bublé, follows patients using health data and a holistic approach to turn back the clock and retain their memories.
For patients suffering from Alzheimer's disease, no memories are safe — from the recollections of daily responsibilities to their most cherished moments.
MEMORIES FOR LIFE  follows six Alzheimer's patients who are refusing to accept their prognosis, and are turning to a new method, spearheaded by top neurologist Dr. Dale Bredesen. Instead of treating symptoms, this approach studies the health data of each patient to find the root cause of their illness.
Dr. Bredesen, best-selling author of The End of Alzheimer's, faces constant skepticism from the mainstream medical community, even though many patients following the protocol show signs of reversing their cognitive decline.
MEMORIES FOR LIFE shows the eye-opening results of this life-changing treatment and questions why something with the potential to reverse such a devastating disease is not being embraced by medical researchers.
This screening and Q&A is being offered at no charge to the KnoWEwell and Natural Awakenings communities and will be available for only 24 hours post-event. Registrants will receive a free entry level membership to KnoWEwell.
DIRECTED BY: Hideyuki Tokigawa
NARRATED BY: Michael Bublé
RUNNING TIME: 85 minutes
RATING: Not Rated
GENRE: Documentary
KnoWEwell.com 
KnoWEwell operates the private and secure Regenerative Whole Health® Hub – the all-in-one, global, trusted online health and well-being solution – bridging the knowledge, access, and insurance gaps. Centralizing knowledge, education, and evidence-based resources. Connecting the ecosystem to collaboratively help individuals prevent harm, address the root causes of disease, and achieve WELLthier Living®! 
Did you know you can curate your own learning library? 
Among our plethora of membership benefits, you can create your own library! With a KnoWEwell Pathfinder membership, you get access to KnoWEwell's Education Center with 50+ (and growing) educational programs from today's top thought leaders and experts. Learn how to prevent and address the root causes of chronic disease. Keep track of the programs you have already viewed and watch them anytime you or your family need help. 
Join today, get started on your journey to achieve WELLthier Living – Happy. Healthy. Abundant. Purpose-filled!