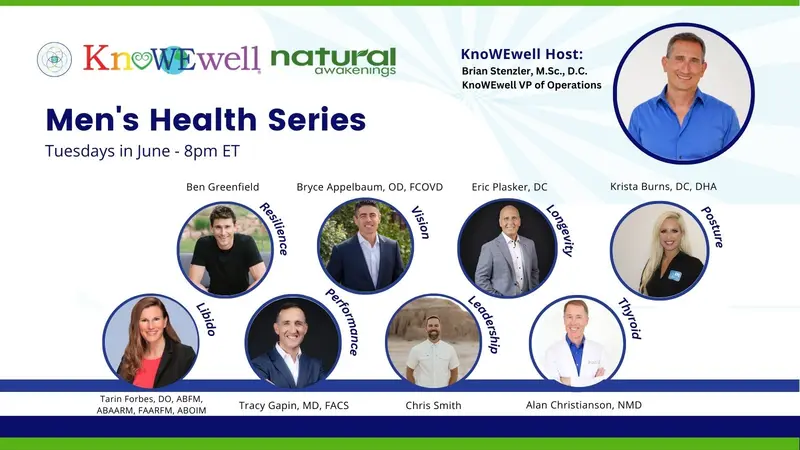 Men's Health Series - The Healthy Man
If you knew you were going to live to 100, how would you change your life today?
This Tuesday night series in June provides a blueprint on being The Healthy Man. If you are a biological male and/or identify as a man and want to perform at your highest levels personally and professionally as you age; create a lasting family legacy that you can be proud of; look great, feel great, and function great; and experience a joyful life, you do not want to miss this one of a kind Men's Health Series.
This line-up of presenters are among the most influential and renowned in the realm of men's healthcare and personal development. Learn from:
Ben Greenfield, human performance consultant, 13-time Ironman triathlete, speaker, and New York Times bestselling author of 17 books
Chris Smith, creator of Family Brand, host of Family Brand podcast, and creator of the Level Up Your Family in 8 Weeks program
Eric Plasker, chiropractic doctor, international bestselling author and creator of The 100 Year Lifestyle
Alan Christianson, naturopathic endocrinologist, founding president of the Endocrine Association of Naturopathic Physicians, bestselling author, and media spokesperson
Krista Burns, chiropractic doctor, founder of the American Posture Institute, author, and TEDx speaker
Bryce Appelbaum, doctor of optometry, pioneer in neuro-optometry, board-certified Fellow of the College of Optometrists in Vision Development, and Adjunct Clinical Professor at the Southern College of Optometry
Tracy Gapin, board-certified urologist, world renowned men's health and performance expert, founder of the Gapin Institute, media spokesperson, and TEDx speaker
Tarin Forbes, triple board-certified specialist in anti-aging, regenerative and integrative medicine fellow with the American Board of Family Medicine 
Learn about each topic area and walk away with tangible next steps to use in your life TODAY, along with guidance on how to masterfully apply these new skills.
KnoWEwell Members: Sign up here for FREE
(value = PRICELESS)
Not a KnoWEwell Member?
Learn more and register here.