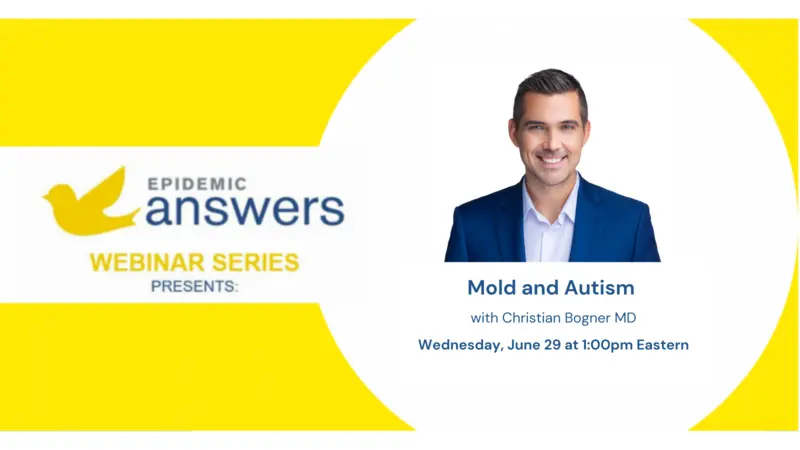 Mold and Autism with Christian Bogner, MD

Mold and Autism
There are a few documented cases of the complete reversal of autism symptoms with the treatment of the mycotoxins produced by mold. In one case, such as a peer-reviewed article by Drs. Sidney Baker and William Shaw, it was achieved with antifungal drugs. In another case, it was achieved with the removal of a child from a home with unseen mold in addition to biomedical interventions for the child.
In such cases, the child is typically tested with a special urine test that looks for biochemical markers consistent with fungal (Aspergillus) colonization of the gastrointestinal tract. Additional tests could include testing for certain single nucleotide polymorphisms (SNPs) in the child's DNA as well as testing for neurotransmitter imbalances.
Another way to test the hypothesis that mold in the home and child are causing symptoms of autism is to remove the child from the home for a period of time, such as when going on vacation for a few days or a week. If symptoms improve, this is a strong indicator that something in the child's home environment could be contributing to the total load of symptoms.
Yet another way to test the mold hypothesis is to give the child the antifungal probiotic Saccharomyces boulardil (under a practitioner's guidance, of course). A dramatic Herxheimer reaction provides a strong indications that mold colonization might be a factor.
In our experience, if you've tried everything in getting to the root of your child's autism symptoms, you'll want to investigate mold as a factor. It could be *the* one major thing that needs to be addressed.
In This Webinar
Dr. Christian Bogner uses a functional-medicine approach to treat children with autism. He uses a variety of testing methodologies to confirm his hypothesis that mold may be playing a factor in autism symptoms. In this webinar, he'll help us to understand:
When should mold be suspected as a cause of autism symptoms?

What kind of symptoms does a person with mold and mycotoxin illness exhibit?

Which tests can be used for the child to determine if mold is a factor?

Which diet(s) can help with mold and mycotoxin illness?

Are there common foods that are a concern for mold and mycotoxin illness?

How can a home be tested for mold?

Do most homes have mold?

Is it worth spending tens of thousands of dollars or more to remediate a mold-infested home?

What kinds of treatments help with mold and mycotoxin illness?

What are examples of success stories of children with autism who have been treated for mold?
Join us to listen to Dr. Bogner and ask him your own questions in this live webinar!
About Christian Bogner, MD, CFMNP, FACOG
Dr. Christian Bogner is a lecturer, educator and experienced practicing clinician. His services specialize in online education for his patients.
He is a functional medicine certified physician with additional board certification in OBGYN. He has obtained his certification in Plant-Based-Nutrition from Cornell University.
He provides functional medicine education and counseling as the CEO of Bogner Health, LLC in Michigan, which offers laboratory test interpretation education for individuals with complex medical conditions such as autoimmune diseases and mental health disorders.
Dr. Bogner is a clinical consultant for MaxGen Labs, LLC, a nutrigenomics lab analyzing genetic data, utilized by over 800 practitioners around the world. He has lectured throughout the United States and abroad regarding integrative approaches to disease with a focus on genetics, neurotransmitters and toxicities. You can find out more about him and his practice at his website www.drbognerhealth.com/.
Disclaimer
This webinar is not a substitute for medical advice, treatment, diagnosis, or consultation with a medical professional. It is intended for general informational purposes only and should not be relied on to make determinations related to treatment of a medical condition. Epidemic Answers has not verified and does not guaranty the accuracy of the information provided in this webinar.