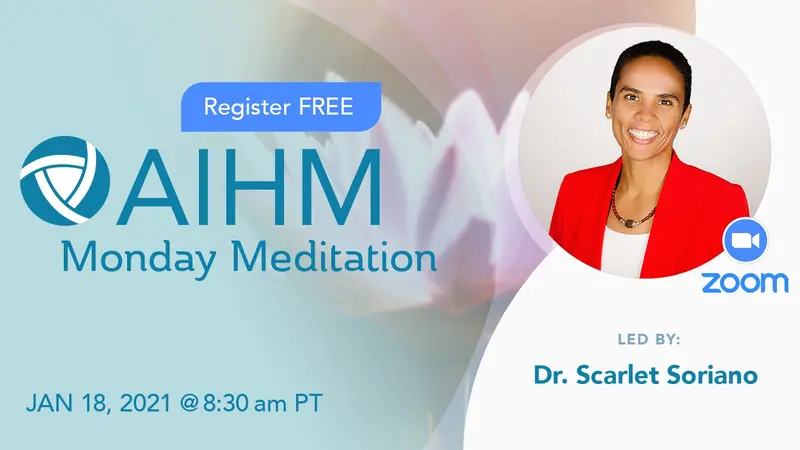 Monday Meditation with Scarlet Soriano

AIHM invites you to join us for this week's Morning Meditation presented by Dr. Scarlet Soriano. Dr. Scarlet Soriano, MD is an Integrative Medicine and Wellness leader, speaker, and teacher. She is Clinical Assistant Professor of Family Medicine at Boston University School of Medicine and the current Director of Wellness-Based Healthcare Transformation at Boston Medical Center. She is also the Medical Director of Hopespring Holistic Health Institute in Maine. She is an expert in Integrative group medical visits. Dr. Soriano is a consultant for various organizations in the health and wellness fields. She is a dynamic speaker and educator with a passion for increasing access to Integrative Medicine services to underserved populations. Dr. Soriano is board certified in Family Medicine and Integrative Medicine.
The Academy of Integrative Health & Medicine is dedicated to engaging a global community of health professionals and health seekers in innovative education, leadership, inter-professional collaboration, research and advocacy that embraces all global healing traditions, to promote the creation of health and the delivery of evidence-informed comprehensive, affordable, sustainable person-centered care.