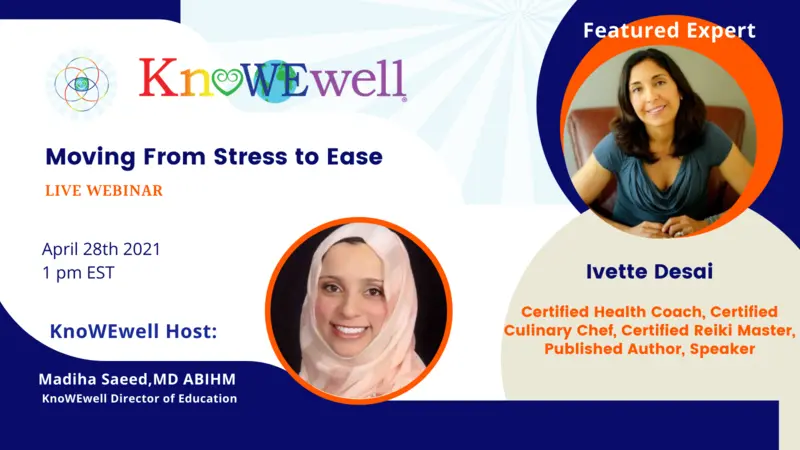 Moving From Stress to Ease

Ivette Desai, Certified Health Coach, Author of International Best-Selling Book, Relaunch Your Life Force, and Founder of "10 Habits to Thrive" has a passion for helping others understand how food and lifestyle affect and heal the body, mind and spirit.
In support of Stress Awareness Month, Ivette joins Dr. Madiha Saeed, Director of Education for KnoWEwell and the HolisticMomMD to discuss the debilitating effects that stress has on the body. Using Ayurveda & Habit Changing Science, she will share strategies to help us move from stress to ease and to reduce overwhelm, increase our energy, and feel better.
KnoWEwell® 
KnoWEwell is the one destination for today's trusted Regenerative Whole Health™ knowledge, resources and community. The global community and marketplace ecosystem collaborating to inspire and empower individuals to achieve WELLthier Living™.
Join the movement as we share knowledge and healing success stories, provide access to evidence-based resources, create meaningful connections and help today's providers, mission-aligned nonprofits and businesses opportunities prosper. 
We are transforming the healthcare we know.