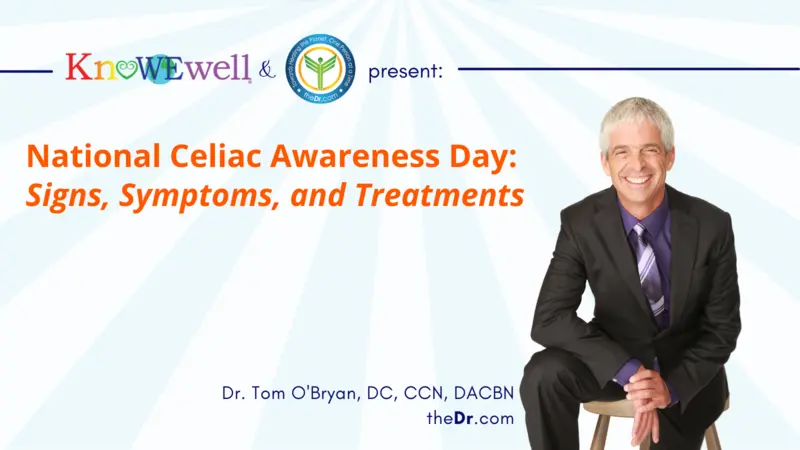 National Celiac Awareness Day: Signs, Symptoms, and Treatments

Celiac disease is a serious autoimmune condition that occurs in genetically predisposed people, whereby the ingestion of gluten leads to damage in the small intestine. It is estimated to affect 1 in 100 people worldwide. When left undiagnosed, it can lead to long-term health complications.
Join Dr. Tom O'Bryan, DC, CNN, and founder of theDr.com, as he explains the signs, symptoms, and root causes of Celiac disease, its short- and long-term health effects, and practical treatments for successfully managing this chronic health condition.
KnoWEwell, P.B.C.
KnoWEwell is the global Regenerative Whole Health (RWH) benefits and services company. An award-winning, woman majority-owned, B Certified pending corporation and 1% for the Planet member.
We operate KnoWEwell.com, the one online destination for today's trusted Regenerative Whole Health knowledge, resources, and ecosystem collaborating to inspire and empower individuals to prevent harm, address chronic diseases and achieve WELLthier Living. 
We are on a mission to transform healthcare, as we share knowledge and healing success stories, provide access to screened, verified and background-checked RWH practitioners, as well as expert-led and peer-reviewed content, evidence-based resources, create meaningful connections, and help today's providers, mission-aligned nonprofits, and businesses prosper.