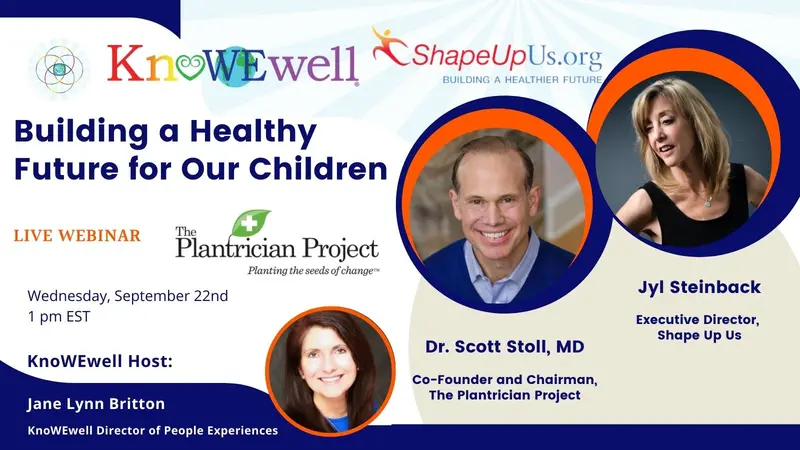 National Childhood Obesity Awareness Month: Building a Healthy Future for Our Children

The Centers for Disease Control and Prevention estimates one in five children in the US is obese. This is a major public health problem since children with obesity are at higher risk for other chronic health conditions and diseases, such as asthma, sleep apnea, bone and joint problems,  type 2 diabetes, and heart disease. According to the New England Journal of Medicine, today's generation of children is the first that will have a shorter lifespan than that of their parents.
In recognition of National Childhood Obesity Awareness Month, KnoWEwell sits down with Jyl Steinback, Executive Director of Shape Up US, Inc, and Board Member, Dr. Scott Stoll, discuss how we can make an impact on our nation's health through The Hip Hop Healthy Heart Program for Children™,  which integrates self-discovery and self-esteem techniques, in addition to health and wellness information.
KnoWEwell, P.B.C.
KnoWEwell is the global Regenerative Whole Health (RWH) benefits and services company. An award-winning, woman majority-owned, B Certified pending corporation and 1% for the Planet member.
We operate KnoWEwell.com, the one online destination for today's trusted Regenerative Whole Health knowledge, resources, and ecosystem collaborating to inspire and empower individuals to prevent harm, address chronic diseases and achieve WELLthier Living. 
We are on a mission to transform healthcare, as we share knowledge and healing success stories, provide access to screened, verified and background-checked RWH practitioners, as well as expert-led and peer-reviewed content, evidence-based resources, create meaningful connections, and help today's providers, mission-aligned nonprofits, and businesses prosper.