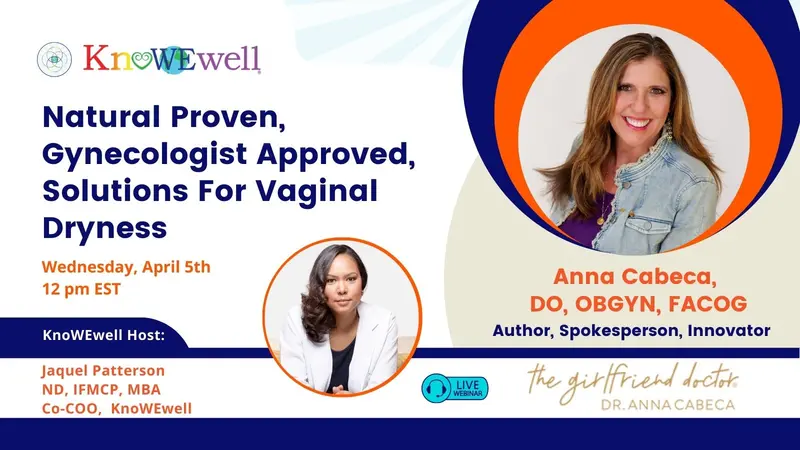 Natural, Gynecologist Approved, Proven Solutions For Vaginal Dryness

Vaginal dryness is a very common, very real problem that many women go through, mostly in silence. It can affect your quality of life, your mental state and can cause physical pain for some. It's also a sign that something else is going on.
Dr. Anna Cabeca, The Girlfriend Doctor, is the first call for the woman who has questions she would only ask her best girlfriend – if her girlfriend were a Triple-Board Certified OB-GYN. Having worked with thousands of women one-on-one to help them understand and improve their health and manage their hormones, Dr. Cabeca is committed to supporting women so that they can thrive physically, emotionally, sexually and even spiritually as they go through the natural and inevitable life shift of menopause.
In this program, Dr. Cabeca will talk about a topic that makes some people uncomfortable, and yet almost all women go through it at some point of their lives. You will learn:
Causes of vaginal dryness
Why vaginal health is important in women's lives
Natural solutions for vaginal dryness
How to promote vaginal health
KnoWEwell.com
KnoWEwell operates the private and secure Regenerative Whole Health Hub – the all-in-one, global, trusted online health and well-being solution – bridging the knowledge, access, and insurance gaps. Centralizing knowledge, education, and evidence-based resources. Connecting the ecosystem to collaboratively help individuals prevent harm, address the root causes of disease, and achieve WELLthier Living™!
Did you know you can curate your own learning library?
Among our plethora of membership benefits, you can create your own library! With a KnoWEwell Pathfinder membership, you get access to KnoWEwell's Education Center with 50+ (and growing) educational programs from today's top thought leaders and experts. Learn how to prevent and address the root causes of chronic disease. Keep track of the programs you have already viewed and watch them anytime you or your family need help. Join today, apply code BEWELL20 and receive 20% off your Pathfinder membership (or any other membership plan). That's just $8 a month to get started on your journey to achieve WELLthier Living – Happy. Healthy. Abundant. Purpose-Filled!