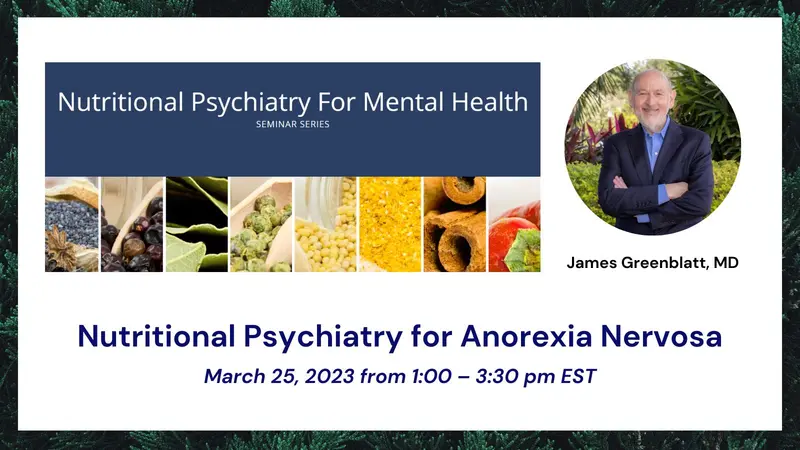 Nutritional Psychiatry for Anorexia Nervosa

To order and watch the lecture, click on REGISTER HERE.
With a relapse rate of upwards of 50% and the highest mortality rate of any psychiatric disorder, anorexia nervosa presents today's mental health clinicians with a significant and daunting challenge.
Traditional treatments for anorexia prioritize psychology and BMI restoration and tend to omit considerations of biology, as well as the connections between malnutrition and brain function. As 100% of anorexia patients are malnourished, these mainstream treatment models are fundamentally incomplete.
In this seminar, Dr. James Greenblatt will present an evidence-based, integrated biological model of anorexia treatment that prioritizes nutritional repletion. He will review research linking essential nutrient deficiencies, brain function, and anorexia symptoms with a focus on zinc, B vitamins, and essential fatty acids. He will also explore etiologic contributions of Celiac disease and gut dysbiosis, and how digestion optimization may improve therapeutic outcomes.
Seminar recordings included with registration! CME & CE credits pending.
Psychiatry Redefined 
Psychiatry Redefined is an educational platform offering mental health professionals training in functional and integrative psychiatry for mental illness. We provide comprehensive, evidence-based and clinician-led courses, webinars, and resources to help professionals treat the root cause of psychiatric disorders, and utilize personalized medicine protocols in their practice.