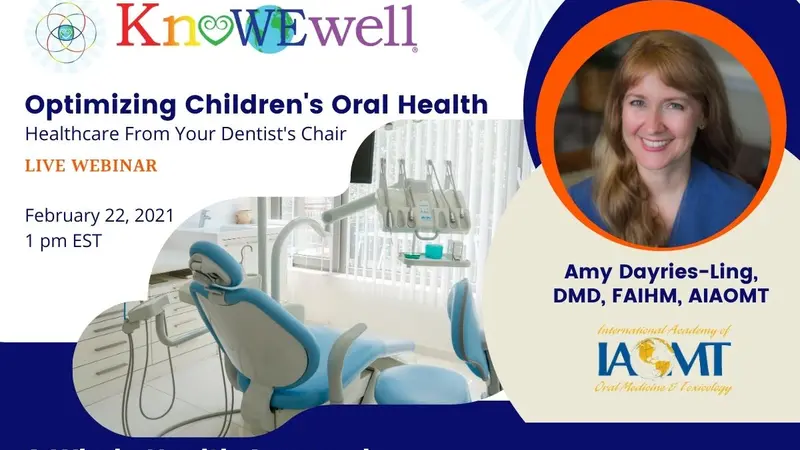 Optimizing Children's Oral Health

It's National Children's Dental Health Month. Did you know the CDC reports that cavities (also known as caries or tooth decay) are one of the most common chronic diseases of childhood in the United States? Untreated cavities can cause pain and infections that may lead to problems with eating, speaking, playing, and learning. Children who have poor oral health often miss more school and receive lower grades than other children.
The good news is that cavities are preventable. Join us for this enlightening whole health approach to preventing cavities and optimizing children's oral health at each stage, beginning with pregnant women's dental health and the effects on babies' health, followed by babies, infants, children, and teens. 
KnoWEwell is a global community and marketplace. The one online destination for today's trusted Regenerative Whole Health™ knowledge, resources and community. We are an ecosystem collaborating to inspire and empower individuals to achieve WELLthier Living™. Join the movement as we share knowledge and healing success stories,provide access to evidence-based resources, create meaningful connections and help today's providers, mission-aligned nonprofits and businesses opportunities prosper. We are transforming the healthcare we know. We are KnoWEwell.
REGENERATIVE WHOLE HEALTH™
We're bridging the knowledge gap, connecting the dots between soil, food, lifestyle choices, planet and people health.
One trusted space for all of today's global healing, health and well-being approaches, therapies, and providers with respect for the connections between the whole unique person and our planet.
Everything you, your family and your patients need for collaborative engagement to make optimal informed decisions.