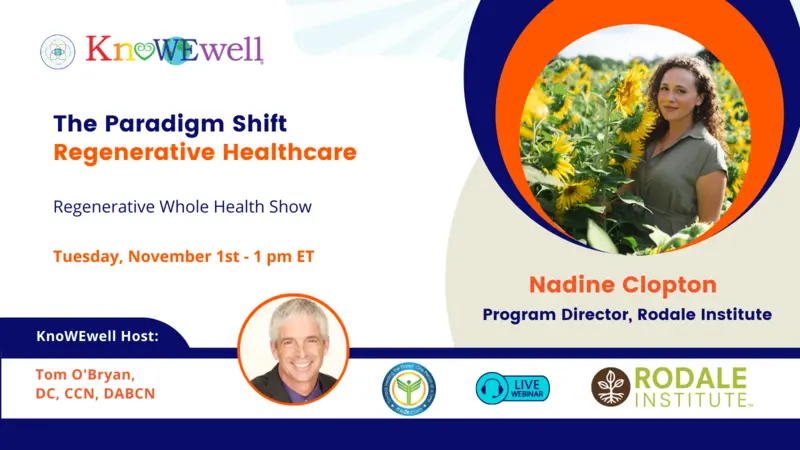 The Paradigm Shift: Regenerative Healthcare

For over 70 years, Rodale Institute has been on the leading edge of the movement to promote a better, natural, and more responsible way of modern farming by conducting research into the cultivation of healthy, living soils. Nadine Clopton joins Dr. Tom O'Bryan, KnoWEwell's Chief Health Officer, for an empowering discussion on the expansion of their movement to Regenerative healthcare. It carries potent "medicine" for healing the epidemic of chronic illnesses, the climate crisis, global food insecurity, and ecological health.
In this program, you will learn:
What is regenerative agriculture?

The impact of regenerative agriculture on our food systems

The link between regenerative agriculture and healthcare

What you can do at home to support a future with healthy food
for additional information, check out knowewell's interview with Ms. clopton here.
KnoWEwell.com
KnoWEwell operates the private and secure Regenerative Whole Health Hub – the all-in-one, global, trusted online health and well-being solution – bridging the knowledge, access, and insurance gaps. Centralizing knowledge, education, and evidence-based resources. Connecting the ecosystem to collaboratively help individuals prevent harm, address the root causes of disease, and achieve WELLthier Living™!
Did you know you can curate your own learning library?
Among our plethora of membership benefits, you can create your own library! With a KnoWEwell Pathfinder membership, you get access to KnoWEwell's Education Center with 50+ (and growing) educational programs from today's top thought leaders and experts. Learn how to prevent and address the root causes of chronic disease. Keep track of the programs you have already viewed and watch them anytime you or your family need help. Join today, apply code BEWELL20 and receive 20% off your Pathfinder membership (or any other membership plan). That's just $8 a month to get started on your journey to achieve WELLthier Living – Happy. Healthy. Abundant. Purpose-Filled!