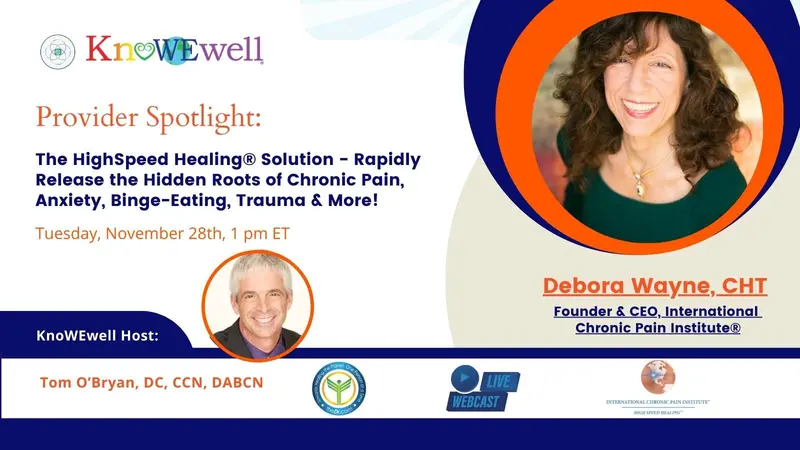 Provider Spotlight: The HighSpeed Healing® Solution - Rapidly Release the Hidden Roots of Chronic Pain, Anxiety, Binge-Eating, Trauma & More!

Debora Wayne, CHT, presents the revolutionary, leading-edge, non-drug healing method reported by thousands worldwide to rapidly release the HIDDEN Root Causes of Chronic Pain, Fatigue, Depression, Anxiety, Trauma, Battles with Weight, Binge-Eating, Insomnia, "Mysterious" Conditions, and More.
Learning Objectives:
Experience for Yourself how to Finally get your energy and health back on track... even if nothing else has worked!
WHY YOU FEEL STUCK: The #1 mistake that practically guarantees that pain, symptoms, & suffering will NEVER stop. 
The 3 EXACT THINGS you MUST DO if you want to Live Pain & Symptom Free & Get Your Energy back on track.
LITTLE-KNOWN SCIENCE: Discover the little-known puzzle piece that holds the ENTIRE KEY to both health and dis-ease.
KnoWEwell.com 
KnoWEwell operates the private and secure Regenerative Whole Health® Hub – the all-in-one, global, trusted online health and well-being solution – bridging the knowledge, access, and insurance gaps. Centralizing knowledge, education, and evidence-based resources. Connecting the ecosystem to collaboratively help individuals prevent harm, address the root causes of disease, and achieve WELLthier Living®!
Did you know you can curate your own learning library? 
Among our plethora of membership benefits, you can create your own library! With a KnoWEwell membership, you get access to KnoWEwell's Education Center with educational programs from today's top thought leaders and experts. Learn how to prevent and address the root causes of chronic disease. Keep track of the programs you have already viewed and watch them anytime you or your family need help. 
Join today, get started on your journey to achieve WELLthier Living – Happy. Healthy. Abundant. Purpose-filled!