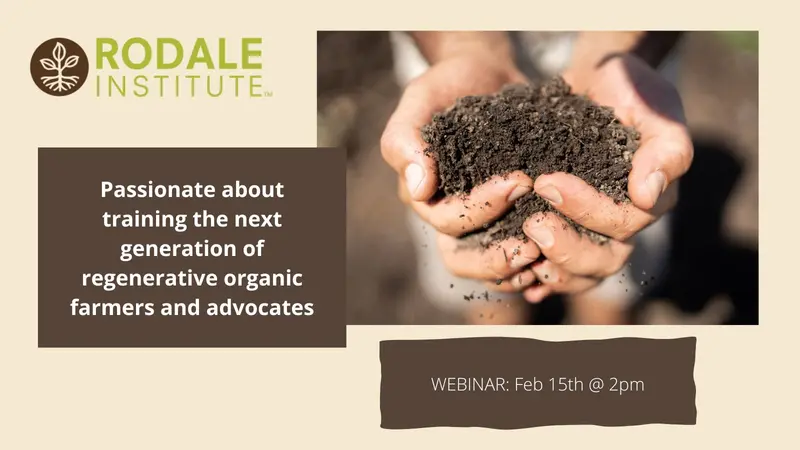 Quantifying the Potential to Reduce Greenhouse Gas Emissions and Increase Carbon Sequestration by Growing and Marketing Climate-Smart Commodities in the Southern Piedmont

Designing and implementing a new large-scale system of agriculture such as Climate Smart Agriculture (CSA) takes an interdisciplinary approach that includes farmer adoption, understanding economic and social barriers to adoption, market and consumer buy-in, new technology to help ease the work and burden on the farmers, and the science to back up these changes. Join Dr. Kristie Wendelberger, Climate Smart Project Director, as she discusses Rodale's newest, multi-disciplinary, large-scale project intended to help Southern Piedmont farmers transition to CSA practices.
This $25 million project is funded through the USDA Climate Smart Commodities grant program and in partnership with Emory University, Clemson University, University of Tennessee Institute of Agriculture, University of Georgia, North Carolina State University, North Carolina Agriculture and Technical State University, University of Wisconsin, Soil Health Institute, Georgia Organics, Carolina Farm Stewardship Association, and Virginia Association of Biological Farming.
Rodale Institute
Rodale Institute is dedicated to growing the regenerative organic movement through rigorous research, farmer training, and consumer education. Widely recognized as the birthplace of the organic movement, Rodale Institute has been the global leader in regenerative organic agriculture for over 70 years.
Our Story
Our founder, J.I. Rodale, was an entrepreneur from New York City who struggled with health problems all his life. One day, he wrote these words on a chalkboard: "Healthy Soil = Healthy Food = Healthy People." In 1940, he bought a rundown farm in Pennsylvania and began to experiment with growing food without chemicals. He coined the term "organic" to describe it. In 1947, he founded the Soil and Health Foundation—what is now known as Rodale Institute.
Rodale Institute put scientific research at the core of its work to development organic farming. Today, organic sales top $55 billion annually in the United States.
The Rodale Instituteis a 501(c)3 nonprofit organization.