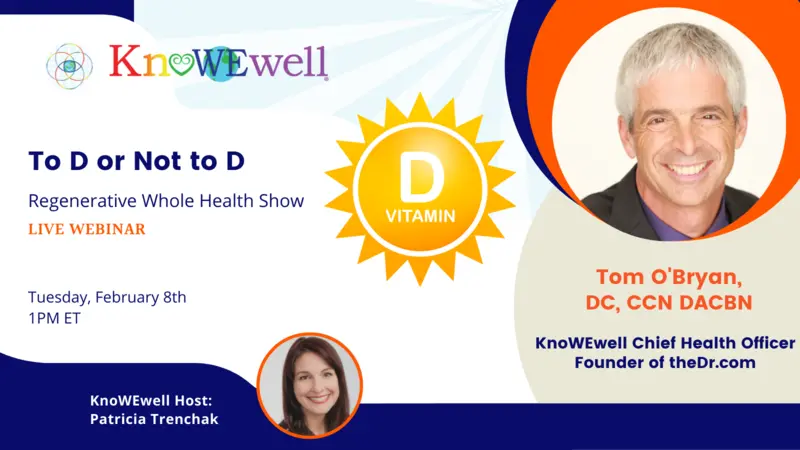 Regenerative Whole Health Show: To D or Not to D

Multiple studies in the last two years have shown that with low Vitamin D levels, your risk of very serious consequences to viral infection is high. With robust Vitamin D levels, those risks drop close to zero. 
Join KnoWEwell's Chief Health Officer, Tom O'Bryan, DC, CCN, DACBN, and founder of theDr.com to learn what the science says. The essential insights for you and your family's protection and optimal health.
At the end of the program, you will be able to answer the following questions about Vitamin D:
Does it help the immune system work better?

Is it safe for me?

Is it safe for children?

How do I know if I need to take Vitamin D?

How much should I take?

How much should my children take?
Evidence-based resources will be available for download during the presentation, including a list of natural foods that contain Vitamin D, the forms of Vitamin D, the effectiveness of Vitamin D in the treatment of various health conditions, and the health warnings associated with Vitamin D.
KnoWEwell, P.B.C. 
KnoWEwell is the global Regenerative Whole Health™ (RWH) benefits and services company. An award-winning, woman majority-owned, B Certified pending corporation, and 1% for the Planet member. We operate KnoWEwell.com, the one online destination for today's trusted RWH knowledge, resources, and ecosystem collaborating to inspire and empower individuals to prevent harm, address chronic disease, and achieve WELLthier Livingä.
We are on a mission to transform healthcare. We share knowledge and healing success stories, offer access to screened, verified and background-checked RWH practitioners, provide expert-led and peer-reviewed content and evidence-based resources, create meaningful connections and help today's practitioners, and mission-aligned nonprofits and businesses prosper.
theDr.com
If you have struggled with your health, despite months or even years of investigation and intervention, you're in the right place.
The vast majority of diseases of the last few hundred years have been reduced or eliminated with the tremendous progress in medical research. In their place however, other health hurdles have exploded, like autoimmune disease, metabolic disease, blood sugar issues, food sensitivities, fatigue, brain fog,  and more. And to this, a long list of advanced lifestyle diseases like obesity, diabetes, cardiovascular disease, Alzheimer's, etc. To address lifestyle diseases requires a different type of thinking. You cannot arrest Alzheimer's disease with medication. You cannot reverse obesity (and all of its complications) with a pill.
Arresting the progression of lifestyle diseases and reversing many health hurdles and symptoms is an inside job – healing from the inside out, one cell at a time.